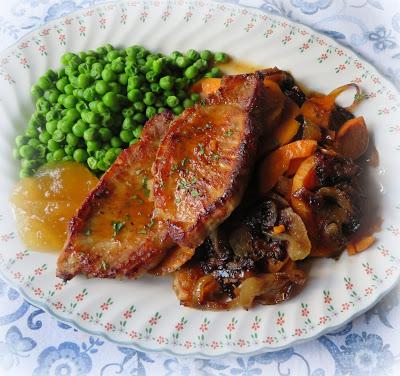 We don't eat a lot of red meat in our house. We mostly eat chicken or fish, with an occasional piece of beef, lamb or pork.  I have thought about stopping eating meat altogether, but I do admit, I really enjoy the occasional steak or chop, and we both enjoy good sausages every now and then!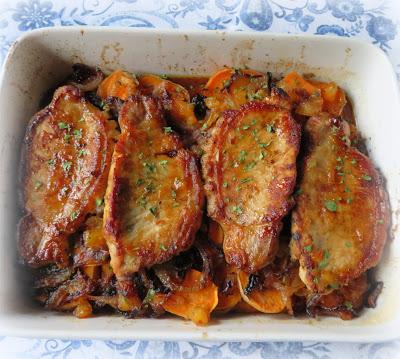 I can remember when I was growing up and my mother cooked pork chops for our supper, you could have used them to shingle your roof.  They had the mistaken idea back then, in the olden days . . .  that you really needed to over-cook pork.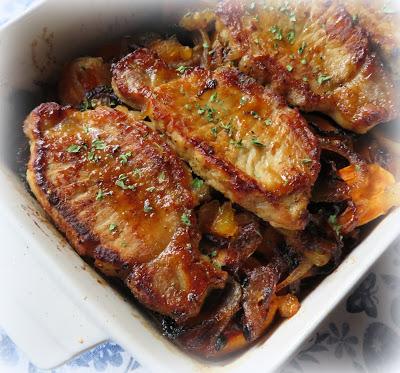 Whilst pork does need to be cooked through, you don't need to overcook them, and cook the flavor out of them.  Brining is a good way to keep them nice and moist.  Also bone in chops have less of a tendency to dry out than boneless chops.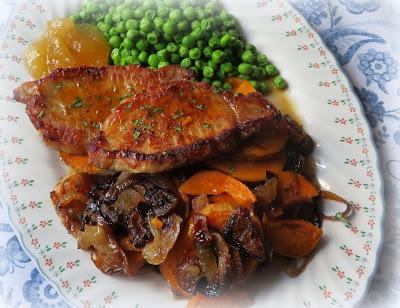 I also find that oven braising them, after an initial browning on top of the stove, also helps to maintain their delectability and flavor.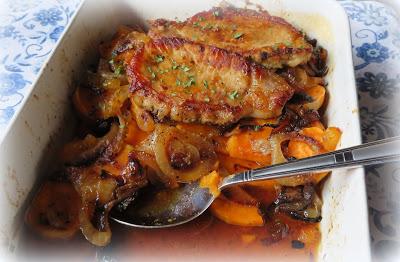 In this recipe I am sharing with you today, the chops are browned quickly in a skillet and then oven braised on a bed of sweet potatoes and onions to finish them off.
This is a dish I really love to serve in the Winter months when we don't mind the oven being on, and we have heartier appetites.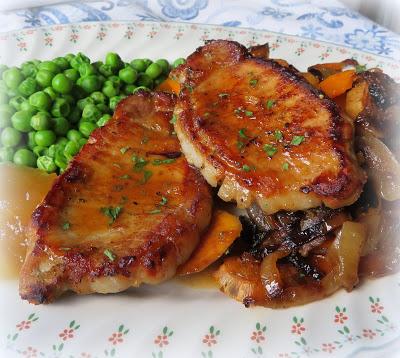 The chops/potatoes/onions are braised in a mixture of apple juice and maple syrup, which also adds some lovely layers of flavours.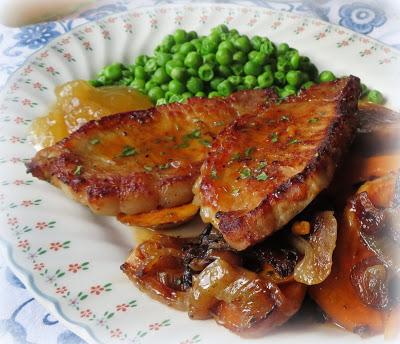 I like to brown my onions really well, before layering them in the pan. This lends a bit of sweetness to the dish  . . .  sticky golden fried onions are a real taste bud tingler! And the smell  . . .  it can't be beat!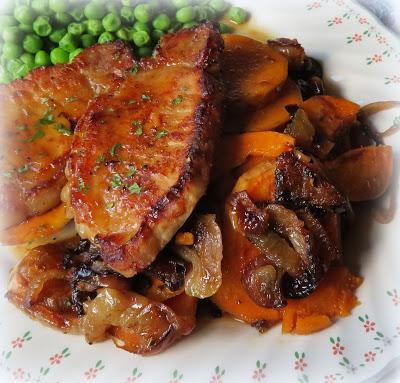 You don't need to use apple juice  . . . orange or pineapple juice would also work very well . . .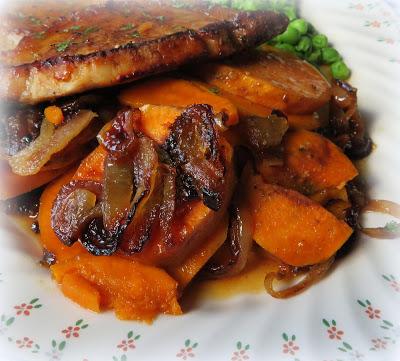 as would hard cider . . . or even just some chicken stock.  Its really up to you. Myself,  I like the flavor that the apple juice lends to the overall dish.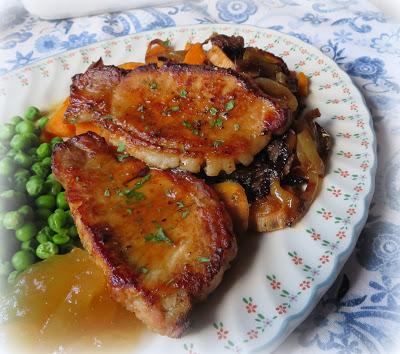 Simple ingredients done right.  This is a fabulous one dish meal.  I like to serve some petit pois on the side and of course applesauce is another tasty addition! 
Yield: 2
Author: Marie Rayner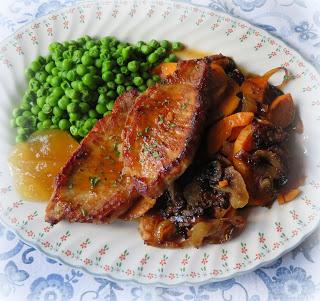 Pork Chops Baked with Sweet Potatoes
prep time: 15 mins
cook time: 50 mins
total time: 65 mins
This meal in a dish supper is adaptable to many flavours. You could use sage or summer savoury instead of thyme, or crushed seeds like fennel, coriander or juniper.  Honey instead of Maple Syrup would work well also.
ingredients:
2 TBS sunflower oil
250g sweet potatoes, peeled and sliced (1/2 pound)
fine sea salt and freshly ground black pepper
2 medium brown onions, peeled and sliced
the leaves from 3 - 4 sprigs of thyme
2 pork loin chops, fatty edge slashed
(this helps to prevent the chops from curling)
1 TBS pure Maple Syrup
75ml apple juice (1/3 cup)
instructions:
Preheat the oven to 180*C/350*F/ gas mark 4.  Butter a shallow oven baking dish.  Set aside.
Prepare your vegetables.  Spread the sweet potatoes in the baking dish, sprinkling them with salt and pepper and a bit of thyme.
Heat the oil in a skillet.  Add the onions and fry them until golden brown.  Remove from the skillet and spread over the potatoes.  Sprinkle wit a bit more thyme.  Season the pork chops and brown them quickly on both sides in the skillet. Place them on top of the vegetables in the casserole dish and sprinkle with any remaining thyme.  Whisk together the maple syrup and apple juice.  Pour over all and then cover the dish tightly with foil.
Bake in the preheated oven for 40 minutes. Uncover. Reduce the oven temperature to 150*C/300*F/gas mark 2.  Return the dish to the oven and cook for a further 10 minutes to let the chops and potatoes brown slightly.  Spoon onto heated plates to serve.  I like to serve a green vegetable with this.
Created using
The Recipes Generator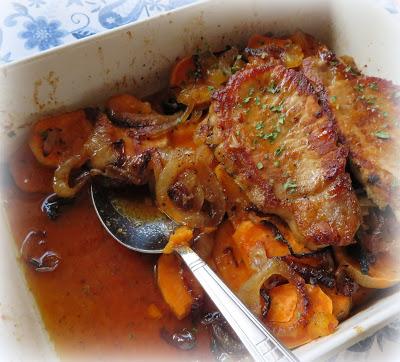 You can double or triple this recipe by increasing the quantities accordingly and baking in a much larger gratin dish.  The cook time should stay the same.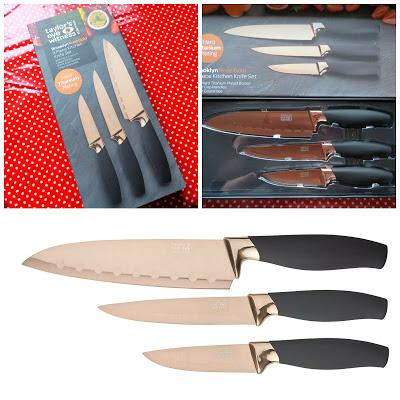 Of course a good set of knives is probably the best tool you can have in the kitchen.  I was sent these Taylor's Eye Witness Rose Gold Knives recently to use and try out.  They are really nice knives, with an attractive rose-gold coloured bolster and finger guard.  They also boast comfortable soft-grip handles.  They have a hard titanium plated blade, with super-sharp hollow ground blades, which are difficult to blunt and come with a 2 year no-quibble guarantee.  Whilst they
are
dishwasher safe, hand washing is recommended,using a plastic dish brush in hot soapy water, and drying with a soft cloth immediately after.  It is not recommended that you use anything abrasive to wash them with.  Regular sharpening will help to keep the edges sharp.  There is nothing more dangerous in the kitchen than a dull knife.  I found them to work very well and was very impressed with their ability to cut my onions and sweet potatoes into lovely thin slices with no effort at all. This set is the Brooklyn Rose Gold 2 piece kitchen knife set, containing a 6 1/2 inch Santuko knife, a 5 inch all-purpose knife and a 4 inch paring knife. I have been very impressed thus far with their performance and I know I am really going to enjoy using these in my kitchen!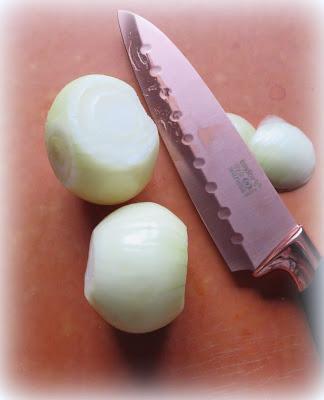 Here's a handy kitchen tip, when I am slicing anything with rounded edges like an onion, or a potato, I find it very helpful to slice a thin edge off on one side so that the vegetable can sit on the cutting board without rolling around.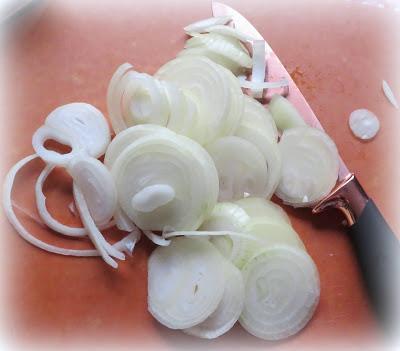 It works a charm and is a much safer way to cut things into thin slices.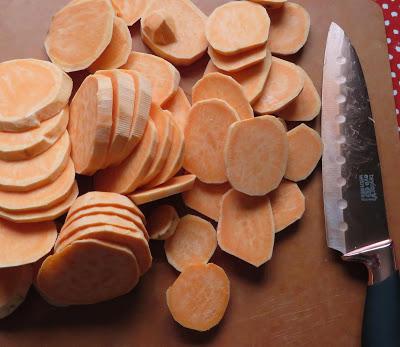 Taylor's Eye Witness
have been making quality knives in Sheffield since 1838. Beautifully designed, yet affordable.   You can buy these lovely knives from the
Bakewell Cookshop
.

Note
- although I was sent these knives free of charge to use, any and all opinions are my own.