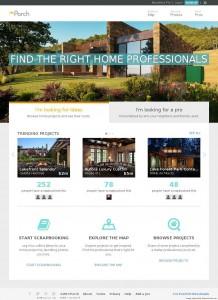 Porch.com was featured yesterday in Tech Crunch the company inked a deal with Lowe's. The company is a start up that aggregates data about home improvement projects all around the country. The domain was formerly owned by the late Domain Hall of Famer, Igal Lichtman. The domain changed hands in October of 2012 from Mrs. Jello LLC to Matt Erlichman the  CEO and founder. Oddly the name is now registered to Scott Austin the Chief Product Officer. Its odd the name would not be in the name of the company. The sale looks to have been a private sale.
The Lowe's deal means the following according to Tech Crunch:
Thanks to this partnership, Porch.com CEO Matt Ehrlichman told me, Lowe's employees will now use Porch.com to recommend local handymen, landscapers, roofers, contractors and other professionals to shoppers. Every day, Ehrlichman said, shoppers ask employees for these kinds of recommendations as they shop, but outside of a few well-defined projects like carpet installs, the company couldn't really make any reliable information available to its customers.

With Porch.com, Lowe's employees can now see which contractors know a certain neighborhood well and how people have rated them. If a customer needs a professional for a service that Lowe's doesn't offer, the employees will bring up Porch on their mobile devices or on in-store terminals and provide shoppers with a few recommendations. Lowe's will also put up signage across participating stores.
The company was featured in Business Insider back in September of last year. That article talked about the previous success of CEO Matt Erlichman and ended the article saying:
With a history like that, no wonder angel investors were tripping over themselves to fund the new venture. The company raised $6.25 million from people like super angel Ron Conway, eBay mafia alum Jeff Skoll and some unnamed execs from Facebook.

…