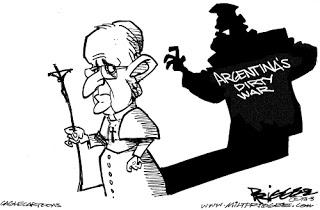 The cartoon:
Milt Priggee
of Cagle Cartoons,
by way of Truthdig
.
What do you think? Good, bad, indifferent? Does it help to continue talking about these issues? Is it fair to do so?
My own thinking: shadows have a way of continuing to follow us around until we confront them.
Ever since I read
Timothy Tyson's
Blood Done Sign My Name
last fall, I've been thinking of a line in that book: Tyson reports that an African-American civil rights activist whose name I don't recall right now shared the following piece of wisdom with him as Tyson began to dig into the bloody history of the civil rights movement when it remained dangerous to ask questions and to look for documents: Tyson's adviser said to him,
We are runaway slaves from our past, and only by turning to face the hounds can we find freedom beyond them.
Shadows don't disappear, any more than the hounds stop chasing when we try to run away from those holding us enslaved. And it seems to me all the more important that Pope Francis deal honestly and transparently with questions about his past now
because he's the pope
. And his pastoral leadership will depend on how he chooses to deal with this questions.
(And the dirty war questions are not the only shadow Francis needs to confront now that he's pope: as an AP article in the
Washington Post
reports recently, members of the LGBT community in Argentina have been less than enthusiastic about the election of Cardinal Bergoglio to the papacy, though his biographer Sergio Rubin has stated that Bergoglio defended civil unions as an alternative to gay marriage. The article quotes Esteban Paulon, president of the Argentine Federation of Lesbians, Gays, Bisexuals and Transsexuals, who says of Bergoglio, "He was the visible face of the Catholic Church's opposition to equal marriage and he approached it from a fundamentalist position, posturing that he had to wage a war of God against what he considered a plan of the devil."
This shadow will continue to place the church itself in the shadows, when it comes to LGBT human beings around the globe, until the new pope addresses it honestly and transparently--particularly when many cultures are
at a perceptible and significant tipping point
about the issue of human rights for gay citizens at this point in time [and
see also here
].)