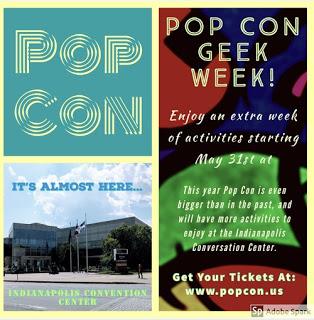 Pop Con - is back, and even bigger than in the past, filling more space at the Indianapolis Conversation Center. There will be plenty of entertainment, unique experiencs, along with activities for families, gamers, superfans, and geeks at this year's Pop Con! 
For those whom are attending for the first time it's a memorable experience filled with so much to do. Here, they celebrate all things pop culture, and PopCon™️ has once again expanded. They're adding PopCon Geek Week™️, starting May 31 and ending at the close of PopCon Indy™️, June 7-9 at the Indiana Convention Center.
"PopCon looks forward to expanding its fun into much more of Indianapolis and surrounding communities this year leading up to our show. We want to continue to grow our economic impact on the city, and helping local businesses is a way to do just that," said Carl Doninger, co-founder of PopCon™️ and Broad Ripple resident. "Indianapolis has such an amazing and diverse community, we want everyone to participate in and enjoy all that PopCon has to offer."
Join The Festivities PopCon
On May 31st, PopCon™️ takes over Food Truck Friday on the west section of Georgia Street with Downtown Indy. Wear something geeky, hang out with PopCon™️ organizers, and enjoy an amazing lunch. 
On June 1st, PopCon™️ is sponsoring the charity Child Advocates to support their Superhero Run. Join us for their 5k run or 1 mile walk, and a cosplay costume contest all at White River State Park. 
The three-day PopCon Indy™️ event June 7-9 remains full of celebrities, social media personalities, vendors, artists, experiences, and events, but now the entire week leading up to the main show will include activities for the community to enjoy.
Get Your Tickets To PopCon
PopCon tickets can be purchased online or at the door. For upcoming guests, vendors, experiences, events, and represented fandoms at PopCon Indy™️ 2019, visit their website.