Blogging Marathon# 52: Week 3/ Day 3
Theme: Weekend Special Dinners
Dish: Poori with Aloo Curry
Poori with aloo curry is a classic combination that I crave once in a while but rarely make at home. First thing I'm reluctant to deep fry anything and second I'm scared that my pooris won't puff up and will turn hard. So I decided to give pooris another try one weekend.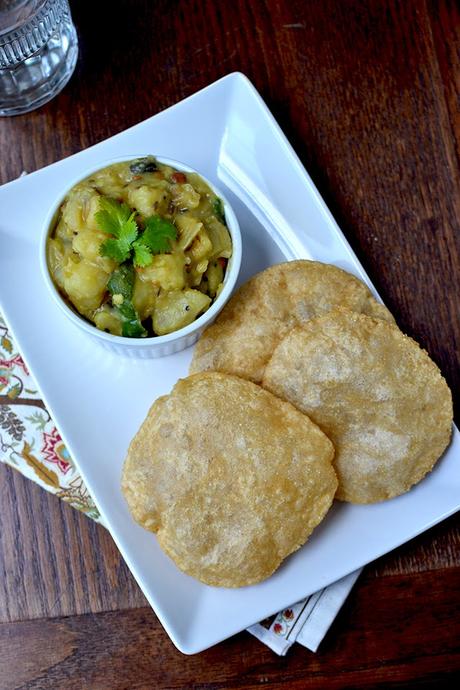 I watched Vah Chef making pooris and gained some confidence. My pooris turned pretty good -- they were puffy, soft and didn't absorb too much oil. I made smallish pooris because I only have a small poori press :-) (The green contraption in the pic below).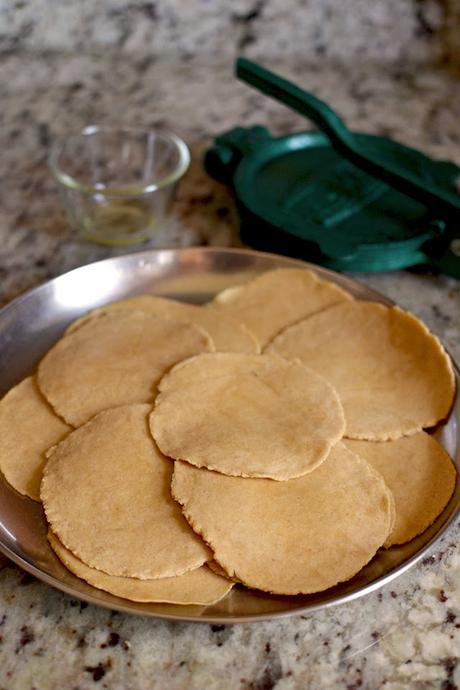 Rolling out pooris is quite an art, because they have to be of even thickness--not too thin, not too thick. Also it is better to use oil while rolling instead of flour. I avoid all this by using my small poori press that my mom sent me more than a decade. It was probably used only a few times but is sure a big help when needed.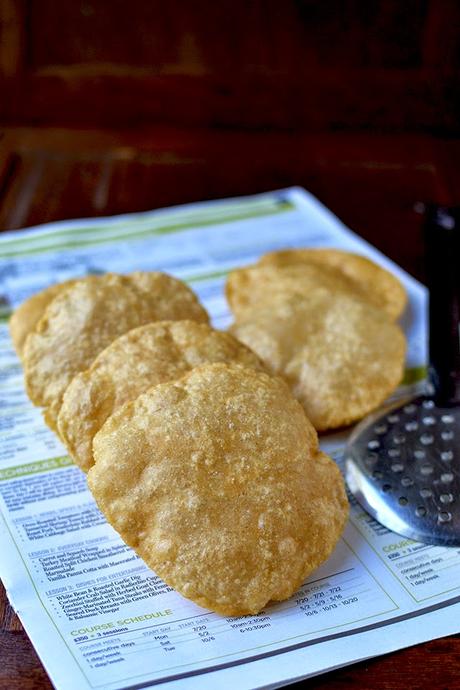 The potato curry is made with lots of onions and is made thick and creamy with the addition of chickpea flour. It goes very well with pooris, dosas and rotis.
This meal is definitely a crowd please, worry about the extra calories  you have eaten the next day -- run an extra mile in the gym. As I am typing I am craving for some pooris right now :-)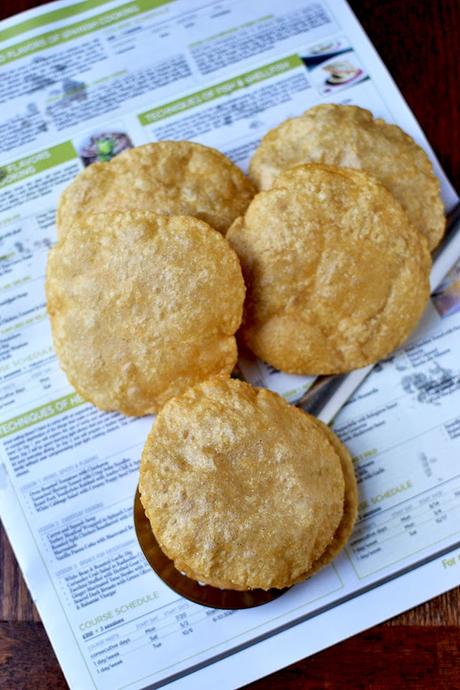 Ingredients
:
Makes about 10~12 medium size pooris
Atta (wholewheat flour) - 1cup Semolina/ Sooji - 1tbsp
Salt - to taste
Method
:
In a mixing bowl, combine atta, sooji and salt. Add just enough water to make a stiff dough. Add water a little at a time, to make sure that the dough is stiff.
Cover and set aside for 15~20 minutes.
When ready to make the pooris, heat oil for deep frying in a small wok or other pan. 
Divide the dough into 10~12 small lemon size balls. Roll them into 3"~4" round discs. Use oil to help while rolling the pooris -- don't use flour, because it till will sink to the bottom in the oil and burn. I use my greased poori press for this purpose. Roll out all the pooris and keep ready.
Once the oil is hot enough, gently slide in one poori at a time, press lightly on top with a slotted spoon and fry till golden brown and both sides.
Remove onto a paper lined plate and serve hot with any curry.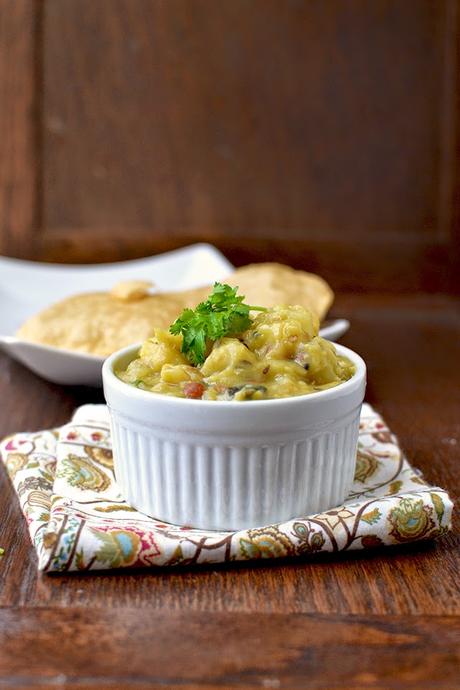 Aloo Besan Curry
:
Ingredients
: Potato - 2 medium, boiled, peeled and chopped Onion - 1 large, thinly sliced Green chilies - 2, slit Ginger - 1" piece, finely grated Curry leaves - 6~8 Turmeric - ¼tsp  Besan/ Chickpea flour - ¼cup
Mustard seeds - 1tsp
Cumin seeds - 1tsp
Chana dal - ½tsp
Urad dal - ½tsp
Red Chili powder - 2
Salt - to taste
Method
:
Heat 2tbsp oil in a pan, add mustard & cumin seeds, chana dal & urad dal; once the seeds start to splutter, add curry leaves and green chilies.
Next add onions and fry till translucent, about 3~4 minutes.
In a small mixing bowl, whisk besan with 1cup water into a smooth lump free paste.
Add potatoes to the onions and cook covered for 5~7 minutes. Mash the potatoes with the back of the spoon, if desired.
Stir in the besan mixture into the curry and cook till the mixture thickens and besan is cooked through. Serve with poori or dosa.
Lets check out what my fellow marathoners have cooked today for 
BM# 52
.