Just think of people who believe Europeans were white skinned, blue eyes, and blonde haired.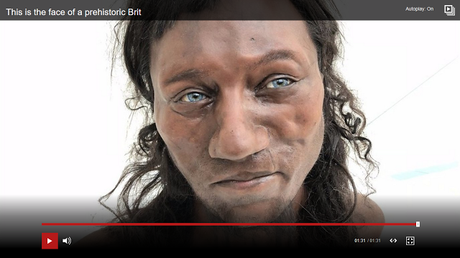 Too bad that isn't true.
Scientists have reconstructed his appearance based on 3D scans of the skull and information from the man's DNA and came up with the above image.
This changes this beliefs about Early Europeans:
It was initially assumed that Cheddar Man had pale skin and fair hair, but his DNA paints a different picture, strongly suggesting he had blue eyes, a very dark brown to black complexion and dark curly hair.
The discovery shows that the genes for lighter skin became widespread in European populations far later than originally thought – and that skin color was not always a proxy for geographic origin in the way it is often seen to be today.
I really wish Pioneer Little
Britain
Europe hadn't banned me from their face book pages because I would post this every place I could.
See also: