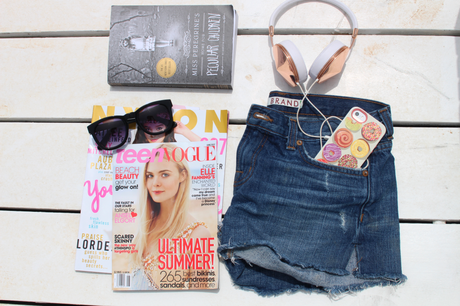 Our time in Mykonos has been spent as expected- lounging by the pool, soaking up the beating sun ,and exploring the culture filled town with its array of shops. 
With just about any trip or occasional time spent away from Netflix and smoothie sippin', a bag is usually need be packed. In true Isabelle fashion, I am a terrible packer, usually forgetting essential items and literally throwing things into my bag. I'm lazy, alright? Albeit this discrepancy, I've complied some of my pool/beach essentials as of the fourth day in Mykonos. Let me know what you deem imperative in your beach bag in the comments! I hope you all are surviving winter or basking in the summer sun wherever you may be! xo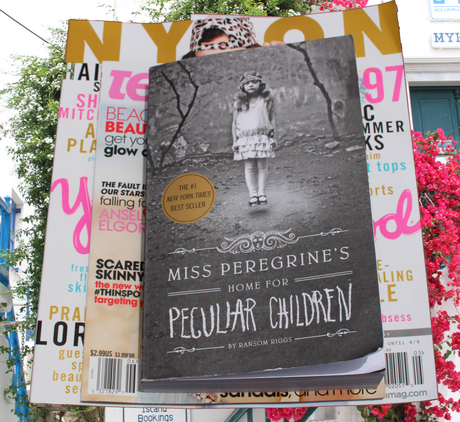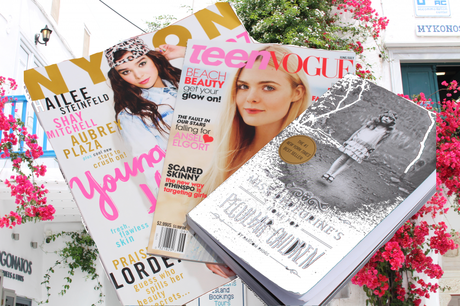 Good Reads:
Before you think to yourself, "Ummm, what is that book!?" I will interject, "Only the best book ever!" All jokes aside, "Miss Peregrine's Home For Peculiar Children" is your new summer read. A stereotypical girl, I usually gravitate towards books of Looking For Alaska or The Fault in Our Stars nature, though this book is an exception. An eerie story accompanied by chilling pictures, this book can get a little strange but it's the type of book where things 'start coming together' and you're quite stupefied. I'm almost finished after about two days reading this rather bulky book and am en route to ordering the sequel! Yay for reading! 
More recognizable in appearance  I also have been tucking the latest Nylon and Teen Vogue into my Triangl drawstring bag for when I want to slow down on reading my book. Never really a Nylon reader, I grabbed it in CVS because I love Hailee Steinfeld, and I'm glad I did. Featuring larger than life editorials, Nylon provides a fashion interpretation in a fresh and new way. In addition to Nylon, I naturally picked up the latest Bridgette Bardot inspired Teen Vogue, featuring Elle Fanning. Can you say girl crush? From the Ansel Elgort mini interview to Elle's wanderlust spread, this issue is my favorite as of late.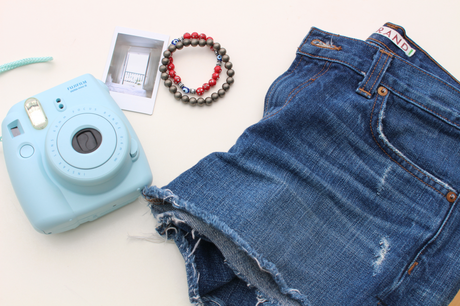 Miscellaneous:

Not usually one to go along with the trends, I never thought I'd actually join the polaroid bandwagon. But after hours of investigation and debate, I finally caved and now find my self smitten..with a camera, haha. While my polaroid taking skills are quite rough around the edges, often over exposing pictures (film photography class clearly hasn't paid off), I still find the concept fun in itself. 

As mentioned a few paragraphs prior, I am not much of a packer, but have found it necessary to pack a few casual bracelets for those unexpected times when my mom whips out her camera. I stroke luck in town yesterday with finding my evil eye bracelet, which adds a touch of whimsy and color to just about any outfit. 

If you asked my mom or any of my friends, they could confirm that yes, I do in fact have a jort (jean short) hoarding problem. I think any shopaholic can agree that the styles and rises make a difference! Of my surplus of shorts, these J Brand shorts top the list. With a nice stretch and not too high or low rise to them, I find my self and my sister wearing them on the daily. 


P.S. Sorry for being such a bad blogger! The wifi is absolutely dreadful here and the beach was calling my name. Hoping for better internet in Santorni! Hope you enjoyed this post and please ignore the weird transparency issue in the book picture, Photoshop is not my friend. xx

       

{FACEBOOK}{TWITTER}{INSTAGRAM}{BLOGLOVIN'}{TUMBLR}