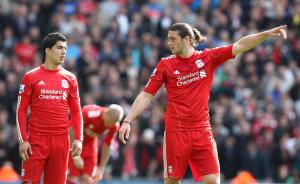 "Is it this way to the goal?"
Andy Carroll was a man in form and in demand last year – a goal every other game for Newcastle United, an England cap which alluded to a rising stock for the long-haired front man.
Now the much maligned young striker has failed to live up to the hype which surrounded his £35million move last January – A fee which Carroll immediately attempted to distance himself from, deep down knowing that the Anfield club had bowed down to Newcastle's overzealous estimation of the player following his striking feats in the black and white.  I was of the belief that if Suarez and Carroll had a successful run in pre-season and both stayed injury-free, this could be a very rewarding partnership for Liverpool and a masterstroke from manager, Kenny Dalglish. The tall target man, initiating the knock downs for the wily and tenacious forward in the Uruguayan – a match made in footballing heaven on paper. In reality, it's started off with nothing more than a whimper.
Luis Suarez @luis16suarez

Great win for keep gaining points! Last match that I can not play with my colleagues! A hug and thanks for all the support!
The partnership was already without a reasonable period of togetherness this season following derailment due to injuries and meandering form, prior to Suarez's eight game sabbatical when found guilty of racially abusing Manchester United star, Patrice Evra during October's Premier League clash at Anfield. Given the haste in which the Uruguayan was convicted, it seems the FA have pandered to their own Euro ambitions and desires by allowing John Terry the chance to captain the national team this summer – the evidence, witnesses in tow would seem more clear-cut than the aforementioned "altercation".
Step forward the evergreen former Celtic forward Craig Bellamy, now in his second stint with Liverpool, to attempt and recapture some semblance of a strike force in the number sevens' absence. Where the Anfield side would be without the Welsh hitman in his current purple patch is hard to say – but perhaps not sitting fifth in the league or still in the hunt for two trophies might be a starting point. He is also just one goal away from his total return at Anfield during his first tenure in the 2006-2007 season. When Bellamy is not in trouble with officials or on the treatment table, he is a veritable joy to behold – he can turn defences inside out and score a variety and abundance of goals. He probably scored one of the finest hat-tricks in modern-day history at Tannadice when in the hooped shirt of the Bhoys.  He is also not a penalty box striker – which could help propel his recent efforts to a whole new dimension when Suarez returns at Spurs next Monday evening.
One of the few times this season when all three were on the pitch, was at Goodison Park back in October – with Carroll and Suarez both on target late on following Bellamy's introduction with twenty minutes remaining.
Their first league win of 2012 against Wolverhampton and a long-awaited goal from Andy Carroll completed a resurgence in form for Dalglish's men after dumping the two sides of Manchester out of the League and FA Cup in the same week. But just prior to that, a three one defeat at lowly Bolton Wanderers had seemed to question King Kenny and his managerial capabilities. They have a League Cup final and the chance for silverware against Championship side Cardiff City to look forward to, along with the return of their captain and talisman, Steven Gerrard to full fitness, Suarez champing at the bit and a newly confident Andy Carroll – when your best players are all on form, it is nigh on impossible to drop them to the bench.
Liverpool have been reverting to a 4-3-3 formation and I believe for the club to build on their recent good form, a three-pronged assault with Bellamy and Suarez supplying Andy Carroll has all the ingredients for success. Part of the Geordie strikers repertoire is also laying on goals, and his flick on's in previous matches for Dirk Kuyt and Craig Bellamy have showcased this ability perfectly. The Reds, currently just outside the Champions League places, are on their day a tougher, and more consistent prospect than both Chelsea and Newcastle who sit above them currently. Also now installed as rightful favourites for the FA Cup, you wouldn't back against a  domestic double trophy haul for King Kenny and his Merry Men.
Top Goal Scorers
Bellamy 9
Suarez 8
Carroll 5
55.863411
-4.250668
Advertisement