Pooja Nair's journey starting as a film journalist has reached Love Aptually
Pooja Nair's heart is in writing. Love Aptually is a modern day romance story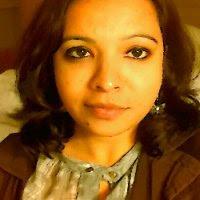 Pooja Nair started her career as a film journalist with Indian Express. She currently works as a learning specialist, a job that she is passionate about. Another thing that warms cockles of her heart is writing. She has attempted different genres of writing, her favorite one being romance.
Her features and short stories have regularly appeared in magazines such as ScreenIndia, Woman's Era, Unboxed Writers, and a host of other eZines. Two other stories were published in compilations titled "Hope" and "Chaos". Her short stories were published in a book titled "Inner Voices" which was released internationally. Three of her short stories were published in the Chicken Soup series.
She is also a featured writer on LinkedIn where she writes on topics such as innovation, leadership, recruitment, and learning design. She has a fabulous blog. You can visit her blog by clicking here.  One of her articles received 3000+ likes. The links for her book Love Aptually are:
Facebook
Flipkart
Amazon India
Amazon US
Welcome, Pooja.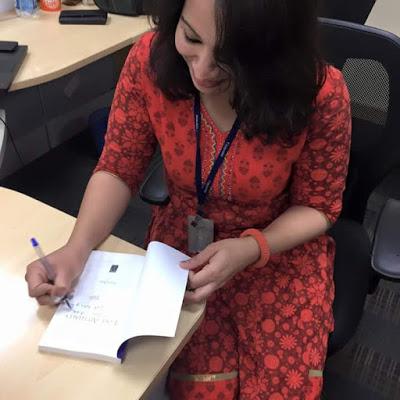 Your real name and pen name?
Pooja Nair
No pen name yet (but my email handle has always been istroller)
Please share some of the best memories of your childhood
Spending summer holidays on the seaside, with a book and pen in hand, scribbling little poems in my diary
Relishing fish curries made lovingly by my mom
About your education?
I have done my Masters in Journalism and Mass Communication.
What career did you plan during your education days?  
I had dreamt of becoming a news broadcaster. I came somewhat close to it (worked as a scribe for a year before jumping on the IT bandwagon as a content developer).
What languages you can speak and write?   English, Hindi, Marathi, and Malayalam
What is your biggest source of inspiration in life?   My Dad has been my biggest inspiration (I really love the way he can ideate on different topics and present his points smoothly).
What hurts you most in this world?   Sometimes I expect a lot from my close friends and when those expectations are not met, I end up feeling hurt.
What is the biggest challenge you have faced? How did you overcome it?   Considering the short attention span of people, and the absolute neglect towards reading books, I have attempted to take up this as a challenge to woo people back into reading. I have used a good number of illustrations, dialogues, and dollops of romantic moments, which I hope will sustain the interest levels of the readers.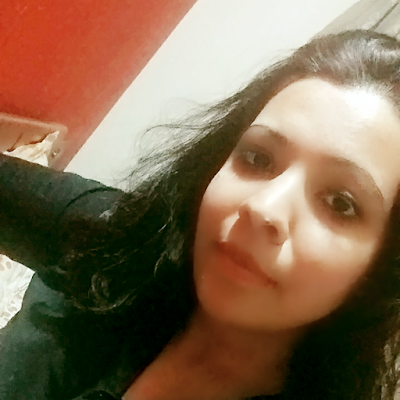 If you had to live a day of your life as one of the living or dead personality, who would it be and why?   I would love to live the life of Elizabeth Bennet (one of my favorite characters) though she is not a real person. I would love to experience the same feelings that she may have gone through (while being in love with Darcy).
What is your favorite genre and why?   Romance!!! It is something that really livens up my heart and has me twirl around, and squeak in delight (I love the part where the boy and the girl end up being together for life!)
When did you start writing? What is the purpose of your writing?   I started writing when I was 9 years of age. I try to express my feelings and pen down my dreamy thoughts through my writings. Sometimes, the purpose is to give out a very strong opinion on things which I may not really attempt in real (while conversing with people).
Which of your work has been published so far? Would you like to share a synopsis of your work?   My features and short stories have regularly appeared in magazines such as ScreenIndia, Woman's Era, Unboxed Writers, and IndiaOpines. Two other stories were published in compilations titled "Hope" and "Chaos". My short story was published in a book titled "Inner Voices" which was released internationally. Three of my short stories were published in the Chicken Soup series.
I am also a featured writer on LinkedIn where I write on topics that range from innovation, leadership, recruitment, and learning design.
I also maintain a blog: http://istrollersdiary.blogspot.in/ (where one of my articles received 3000+ likes).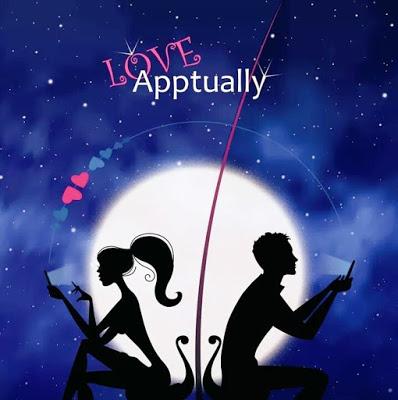 What are your forthcoming writings?   I have been busy promoting my book, "Love Apptually" and have not been able to wrap my head around anything else.
What genres you write in and why?   I mostly write on topical things (which excite and interest me). I enjoy writing movie reviews the most. Amongst fiction, I enjoy writing contemporary romance.
What keeps you motivated towards writing?   When I have a close brush with something really unique like a movie that leaves me spell-bound or a real-life incident which would have touched me, I feel the urge to write about it and share my experience with everyone else. 
If Writing a Book is taken as a project, What are the key essentials you take care of in Project Management?   I decide on the timelines and allocate work to myself (for example 2 hours on writing, 2 hours on researching every day). I also plan on the different activities and keep a To-Do list in hand.
How do you plan, schedule and monitor your writing commitments?   I am a stickler for delivering on time (that comes from my experience as a delivery manager). I always plan on allocating specific timelines to my writing assignments. This ensures that I stay on track.
What are your future plans?   I plan to write some thrillers (since I have started loving some of the books of this genre).
What is generally your preference in reading – a paper book or ebook? And why?   I love both as long as the words are visible enough for me to read.
What four top most things you take care of while writing a book?
1.

  
It should have a simple storyline.
2.

  
It should have lovable characters that people can relate to.
3.

  
It should have great dialogues.
4.

  
It should be racy
How much real life goes into fiction writing?   A lot of it! Most of my writings veer around real incidents (that I may have been a part of or would have seen from close quarters). I have been lucky enough to travel a lot, and a lot of these experiences have found its way into the book.
Is a high level of imagination important to have for an Author?   Yes. It is absolutely important for a writer to have a vivid imagination. This will help them to visualize scenes in their head before pouring them out onto a paper.
Your dream destination on Earth?   Malaysia! I would absolutely want to visit that place again and again. I am in love with the people there and its rich culture. 
Your origin of birth and other countries you have visited/ stayed. What best things you liked in these countries around the globe?  I have been born and brought up in Mumbai. The other places that I visited were:
1.   Montreal (Canada) – I loved the old-styled town with snow-peaked houses (reminded me of the scenery as described in the novel, "Heidi")
2.   UK (London) – I loved the bird's eye view of the place from a vantage seat of London's Eye
3.   Luxembourg – I loved the royal castles and the super laid-back attitude of the people
4.   Philadelphia and New York (US) – Visiting Times Square was a dream-come-true (gave me goosebumps when I first clapped my eyes on the place)
5.   Kuala Lumpur (Malaysia) – I have visited this place at least 30 times, and I would want to come back again for the sheer love and affection that people of this place have given me.
6.   Jakarta (Indonesia), Bangkok (Thailand) - The warmth of the people has what endeared me to these places.
7.   Munich (Germany) – Simplicity of the place and the celebratory culture was savored by me.
8.   Dubai – I cannot think of the place without imagining myself going berserk while shopping my heart out.
Favorite time of the day?   I love the quiet evenings and solitude that it brings along with it.
Your zodiac/ sun sign?   Sagittarius
Your favorite color and why?   I love black! I can wear black almost every day!
What is the last book you finished reading? What is the current book you are reading?   I am reading a book titled "The Leftovers". It reminds me of the Bridget Jones series. The last book that I thoroughly enjoyed reading was "The girl on the train".
Your favorite book and why?   Pride and Prejudice. I have read this a thousand times over, and yet every time I read it, I feel like an 18-year old girl in love.
Your favorite movie and why?   I loved "Dilwale Dulhaniyan Le Jayenge" when I was a teenager. I loved the two characters (Raj and Simran) to bits. My book makes frequent references to the scenes from this movie.
Your favorite celebrity and why?   I love Priyanka Chopra for her spunk and vivacity. I love Deepika Padukone equally for her quiet charm.
Your favorite food?   I love chocolates. I can have hundreds of them in one go (had it not been for the strict diet plan that I follow).
Your favorite sports?   I am not that fond of any sport.
What is the force that drives you?   The drive to succeed
What comes to your mind when you think of India?   A land with diverse culture and great food (I always miss Indian food when I am traveling abroad).
Some quickies: Sun or Moon, Laughter or Smile, Morning or Evening, Coffee or Tea, Mountain or Sea, Long Drive or Short Drive, Silence or Conversation, Water or Fire, Air or Earth, Mars or Jupiter, Tulip or Rose, Red or Blue, Left or Right, Glance or Stare, Fame or Money, Boy or Girl, Day or Night, Tree or Plant, Love or Passion   Moon
Laughter
Evening
Coffee
Mountain
Long drive
Silence
Water
Air
Mars
Rose
Red
Left
Glance
Fame
Girl
Night
Tree
Passion
What three words come to your mind for each – Technology, Life, God, Humanity, Terrorism, Racism, Childhood Abuse, Love, Parenting, Old age  
•   Technology – Ease, Comfort, Reach
•   Life -  Love, heart-beat, Alive
•   God – Blessings, Fear, Reverence
•   Humanity – Kindness, Support, Love
•   Terrorism – Fear, Hatred, Indoctrination
•   Racism – Hatred, Undesirable, Anger
•   Childhood Abuse – Unthinkable, Fear, Undesirable
•   Love – Passion, Kisses, Hugs
•   Parenting – Responsibility, Caring, Patience
•   Old Age – Empathy, Support, Care
First thing you do in the morning after waking up?   Sulk and go back to sleep (for a few more minutes)
The last thing to do before sleep?   Remember the good things that may have transpired during the day
If one fine morning you wake up and find your sex changed to the opposite, what will be your first reaction?   I would not worry about dressing up or taking a bath
State your signature line/ tagline/ best quote   Be your cheery-best in all situations!
The last line of your autobiography would be…  I would not want to write about myself (since I am a very private person).
The title of your autobiography would be…   I would not want to write about myself (since I am a very private person).
Links & other relevant details:
ISBN-10:   9352013913
ISBN-13:   978-9352013913
ASIN:   1455533036
Publisher:   Leadstart Publishing
Twitter handle: @istroller2010, @Love_Apptually
Goodreads author page
Thanks, Pooja and wish you luck for your work and upcoming books. Love Aptually by Pooja Nair will definitely make a great success.
''