Cici is not a big water drinker so I usually feed her food with water so that she will get enough to drink. She has to be really thirsty after a long walk to drink water out of her bowl.  When it is really hot outside, I've been known to give her ice cubes which she likes but does not replace drinking water. While driving/traveling, the ice cubes do help with the heat in the car.
So, when I heard about Frosty Bowlz, I was curious how this would work. Perhaps this would help her drink more water?  I LOVE the sleek stainless steel bowl design and best of all, Cici does seem to like drinking a little more water. The bowl is easy breezy to use for someone like me. All you have to do is take the nontoxic core part and freeze it in the freezer, take it out and put it underneath the stainless steel bowl and voila. Instant cool bowl and it lasts for hours !  I think that if you take the bowl with you while traveling, it will remain cool in the car. Hopefully, you can freeze it at the hotel or motel when you stop. At the dog park, dogs slurp up water like crazy. A few cool drinks of water and they are ready to go play again.

According to PetMD.com, in addition to serving a well balanced diet, providing enough drinking water is a vital part of your pet's daily routine to maintaining overall good health. Consuming the adequate amount of water aids in the digestion of food, helps the body absorb nutrients and also serves to cool the body while helping maintain a normal temperature.
Many pet parents believe that pets prefer drinking cold water – as many as 43% of pet parents will put ice cubes in their pet's dish to keep the water cool and encourage their pet to drink more. Understanding the important role water plays in keeping pets happy, healthy and well hydrated, the Talega® team developed FrostyBowlz®. Unlike ice cubes, this one-of-a-kind pet necessity keeps pets' water refreshingly cold all day long, even in direct sunlight.
The secret to FrostyBowlz® is in the FrostyCore™ technology (patent pending). Filled with a non-toxic freezable gel, the FrostyCore™ fits between the custom designed, high-quality stainless steel bowl and its non-skid bottom tray. Just pop the bowl's center core in the freezer overnight and in the morning place it in the bowl to instantly upgrade your pets' drinking experience. The FrostyBowlz® temperature control lasts between 12 and 16 hours – providing pets access to colder water as much as 6x longer than other methods.
Unlike adding ice cubes to your pets water dish (a practice 43% of pet owners already do) , FrostyBowlz® keeps pets' water refreshingly cold all day long, even in direct sunlight. The freezable FrostyCore® center provides access to colder water for as long as 16 hours – that's 6x longer than other methods.
For more information on FrostyBowlz®visit their website to get the scoop on the bowl, www.FrostyBowlz.com.
From the inventor Jeffrey Brown:
"FrostyBowlz® was inspired by our dog, Jäger, a black miniature poodle. During our first summer with Jäger, we noticed he didn't drink much water while we were away even though he had nice indoor and outdoor areas to play and relieve himself. When we came home each day, we poured him some cool water from the refrigerator. He just lapped it up, as if he was dying of thirst. It made sense to me, I like cool water, why wouldn't he? It was remarkable. Jäger wouldn't touch his warm water in the garage, but he sure liked the cool stuff. This realization sparked an idea as my wife and I sat on the patio during one of those warm summer evenings. We scoured the Internet for a bowl that would keep his water cool and found nothing of any real quality. So we decided to create something ourselves. We came up with a design that made sense to us and worked with local and international factories to perfect our idea. Finally, after more than two years of hard work, FrostyBowlz® was born.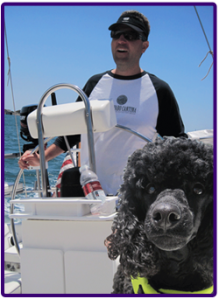 "Jäger loves to drink from his FrostyBowlz® on warm summer days, and it sure lasts longer than the ice cubes we used to add to his water."