The race briefing declared that that 45% of the entry were women. This is very unusual in running races generally and more so in ultra running. What a great day for equality said most of the men. Well actually no, I think most were thinking about how the lovely views were going to be supplemented by, erm.. lovely views. The Pony Express – voted Britain's best race for pulling in.
The Pony Express was named because of the wild ponies that live in the New Forest. This ancient forest was another one of those places in the UK that I had never been to despite it only being a two hour drive from London. We were all glad to get out of London for the weekend. The majesty of ancient trees and wild animals would certainly eclipse the majesty of the future his-majesty spending millions of public money parading thousands of expensive dressed up military ornaments. I could not bear to wait for the news that a year of my taxes had been used to present Posh Spice with a meal that she would barely touch. Still, the bank holiday was welcome though.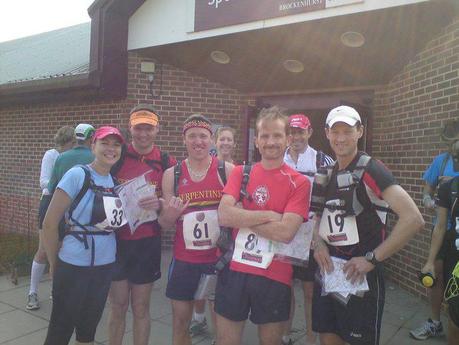 Part of the Serpentine Ultra-Running Army

Right then the race. This was a new addition to the expanding portfolio of great events that Neil Thubron and XNRG are putting on around the UK. We were to run 30 miles each day on Saturday and Sunday on the trails of the New Forest. Unlike other XNRG events these were not along a continuous national trail such as the Ridgeway or the North Downs Way but will involve combinations of lots of different trails, lots of turns and unfortunately for most of us lots of navigating.

Neil also warned us at the race briefing that the forest folk don't take too kindly to signs being put up in their area. Neil had paid for the privilege of being allowed to put up some arrows for the event but soon discovered that the locals had removed many of them.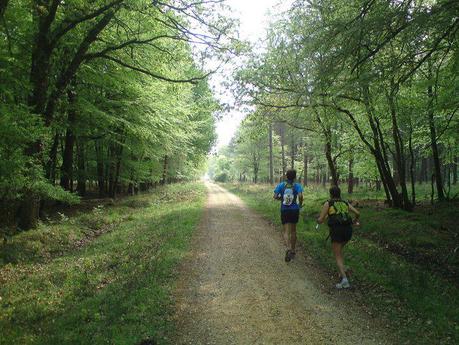 I started in the "middle" group at 10am which was probably unwise as I ended up being near the front of the pack and hence more responsible for navigation. It was actually much easier than I thought, keeping my place on the map and knowing approximately when to expect a turn. I ran with Cleo Oliver and Chris (who I'd met a couple of years ago in Davos).
The first 10 miles to the first checkpoint were fairly well covered by the trees and were really nice to run. After that we ran along some exposed railway path where the sun started doing it's work. Our group of 3 turned into a group of about 8 with Dan De Belder and another lady Beth,  a Serpie John and some others catching up with us.
We had navigated quite well but hit a problem around 15 miles in where there was a t junction in the woods and were not sure whether we should go left or right. The map was not big enough to make it clear so we opted to go left on getting the compass out and realising that we should be heading due west. If it were just one person deciding we would have turned left within seconds, however as there was a committee of us we debated for a long time before marginally deciding to go the right way.
At the second CP Rob and the other leading guy caught up with us having got lost the same place we nearly did earlier. He had done another couple of miles in a loop but managed to get back on track. Rob and Alex then pushed on ahead taking the 2 girls with him.
The route cut through some farms and Ian Payne came smashing it up behind me. I can normally rely on him to cramp up around 20 miles in any long run and have to walk the rest but he was doing the opposite here, bounding past us all quite comfortably. He was only doing the one day though because he is a triathlete and I think his training spreadsheet said that he should spend 6 hours of Sunday watching DVD's about swimming technique.
I was quite pleased with being able to keep up a reasonable pace and got running with a chap called Andy who told me this was his first run of more than 20 miles. We got to the third checkpoint 20 minutes before it was due to open and saw Rob there with the ladies (Alex had run off quite fast). I had been drinking lots and looking forward to getting more cold drink and luckily there were some supporters on hand to give us some water. It was our own fault for starting at 10 rather than 11.
I thought about staying until more water was available but figured I could be halfway to the end by the time they get there, I had about 10k left to go and just wanted to get on with it. Neil met us about a mile later with some cold water so I didn't have to worry about fluid anymore.
I continued with Chris chatting away and behind in the distance I could see a Serpie gaining on us fast. I figured it was John having a second wind but almost as quickly as I thought that Huw Lobb came bounding past, having started an hour later he was making light work of this run. I was surprised that he didn't get more lost but he's actually good at running while reading a map. Might have to put him in a race with Alan Hall.
With only a few miles to go there is a section through Ringwood which we didn't quite do correctly. We were supposed to follow the Malvern Trail which we did except for a time where we arrived in Ringwood and could not see any signs. We asked some locals who were very helpful indeed, too helpful in fact.
Yes yes I know where the footpath is. You follow this road, past the traffic lights up to the car park, go straight through the car park up to the car dealers, it used to be a lovely bakery but it closed 12 years ago. After the car dealers you will see a café that our Alice used to work in a few years back while she was at college. This time of year it has a lovely garden with marigolds and tulips. Anyway, please give me back my map.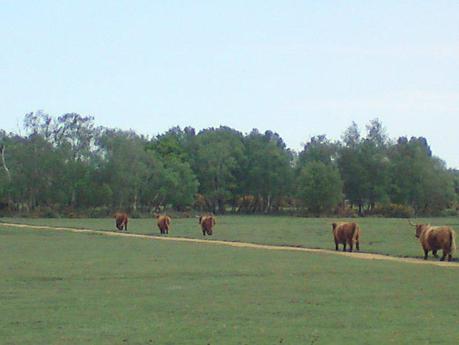 Andy and I managed to retrieve our maps from the too helpful locals and head on up in the general direction of the finish but missed an underpass and went over a busy roundabout instead. No bother really and soon we saw the School where the finish was and got the job done in just under 5 hours.
It was only 3 in the afternoon, the sun was blazing, I had just done a long run and felt that deserved a bottle of beer (or several). Anna who helps with the organisation told us to get in the showers asap before the masses start coming in. She told me to use the ladies as they were not being used. I asked just to make sure that it was ok and then went into the ladies to find a startled Cleo in there. Wasn't my fault honest.
After the shower we sat outside at the finish with beer and clapped the others in. Jen Bradley was a little nonplussed with getting  quite lost near the end but still came in in a great time. Gemma finished around 6 hours and had me doing shuttle runs for her soya milk for the next hour. Mark Bell, Alex Pearson soon followed. We saw Alex (the guy who was leading of the 10am starters) finish about an hour after we did and soaking wet. He had gone really wrong and ended up jumping in a river to cross to get back on route. He looked exhausted and very wet. Later in the pub he told us he had never done a marathon before and only did this in competition with his brother who was about to run a marathon in Afghanistan (800m laps of some army complex).
The location of the finish was perfect. We set up our sleeping bags and mats in the sports hall and went to the pub that was only a short walk. A little walk and a few pints of local ale seemed like the perfect way to unwind from a day running. The event included dinner and breakfast and both were really good. For dinner there was a simple but recovery friendly option of chicken or quorn and veg and potatoes. Salad was also on offer for those people who really did not get the point of ultra-running.
I managed to get drunk enough to sleep well at night which can be a problem when sleeping in a room with about 50 other people. Some of the women snore and fart terribly.
It rained heavily during the night which would not have much of an effect on the run the next day except that I had left my trainers outside to protect people from the smell. Doh.
Sunday morning the starts were earlier, 7, 8 and 9. As one of the faster finishers I was put on the 9 start with Rob, Jen and most of the people I ran with yesterday. This was fine, it gave me a couple of hours to let the massive fry up to settle, they had done really well with the food here.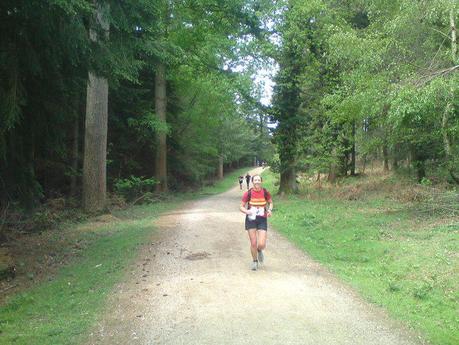 I could have posted about 10 pictures of Jen's arse but I decided to go for this one instead

There only ended up being 10 of us at the 9am start, Neil had sent the ladies off on the 8 at their request except Jen was not around so was the only female in the 9 start. The 3 guys who were leading of those doing the 2 days (coming in just over 4 hours yesterday) shot off into the distance and I made a vain attempt to keep up with Rob who was charging off too but he lost me on the hills. There were more hills today (or rather there were hills today).

After a few miles Jen and the other 4 caught up and we ran as a group for most of the rest. We were running across the top of a ridge and it was quite windy. It was we were going to get most of this done before the heat of the day kicked in.

I thought the route on day 2 was much nicer, there was less twisting and turning on the map and more open viewing points and tall forests. Though I was keeping my eye on the map in case I lost the group I was just following Jen and Sandy who were doing the majority of the navigation. If I were on my own I would have probably walked up the hills, Jen was determined not to walk any of them and was beasting the 5 guys up every one of them, shouting at us if we walked. She was in a rush to get back for the Arsenal Vs Man Utd game later and needed to finish in 5 hours. Essentially 5 guys were getting pulled along by a girl who was desperate to get back for the football. What has the world come to?

At the start of each day we were warned about adders in the forest. A warning usually taken lightly except there had been a couple of sightings on the first day so I was looking out for one. I love the wild ponies and cows in the New Forest, they are completely disinterested in humans. They don't run away but neither do they respond in any way if you stroke them. Checkpoint 2 was quite funny, there as a pony with it's face in the cake and was not moving. I thought it had been tied there somehow but it was just wanting to eat the famous Rocky Road cake that powers most of the runners along this.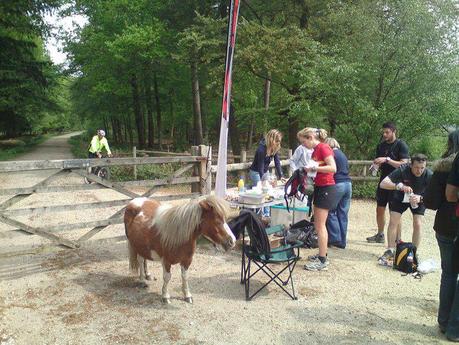 This pony spend a long time slobbering on the cake

Oddly I did not eat much and the checkpoints this weekend. Apart from drink I only recall having a couple of pretzels and one piece of cake. This is unlike mewhen there is cheese, sausage and sweets on offer. I did have two fry-ups for breakfast though.

After the first checkpoint we started to overtake the runners from previous waves and soon caught up with some familiar faces. We passed Alex just before the last checkpoint. I sprinted ahead to see him and say hello only to get a photo of Jen from the front. In struggling to keep up I had already taken about 10 photos of her arse and did not want to be branded a pervert again after yesterday's changing room episode.

After CP3 I saw Gemma in the distance and considered my dilemma. Should I run the rest with her and earn some brownie points or should I press on so to be able to have more beer at the finish? Gemma was running with a lady called Carol Ann who was running her 150th marathon/ultra today so figured she was in good hands.

Not long after that we got a bit lost. On going into some woods and over a brook we must have gone along a path that was not really a path (well not marked on the map anyway) and cut through and come out at the wrong point. Some of the locals had removed the signs again in protest against marauding ultra-runners and we ended up not really knowing where we were. There were some people out walking with a map.

We had different maps and neither had any of the same reference points. We'd say "where are we in relation to Badger's Shrub" and they'd say "That's not on our map, you are about a mile south of Otters Dyke" and we'd say "That's not on our map, I reckon we are somewhere west of Adder's tail" and they'd say "That's not on our map, maybe you should make an approach for Donkey's End?"

Realising this could go on and on we chose to try and take a path heading south towards Brockenhurst and hope to regain our position somehow. There were about 10 of us now which prolonged the decision making but we got there in the end, unanimously deciding to go wrong. We got the compass out and took a rough bearing. I was amazed that I convinced some people that I knew how to use a compass.

It didn't make too much difference. I think we cut out a bit of the route but made up for it by hitting the road into Brockenhurst a bit early and running a few miles of road. It felt a bit disappointing to finish with a longer stretch road than we should but we could have spent all day in that forest. Jen was on a mission now, cutting the 5 hour finish a bit fine. I did point out that Man U score all their goals in the last minute anyway so she had a couple more hours still but she was having none of it and sped off.

We all finished in very similar times to the previous day. Rob took about 20 minutes less on dya 2 as did Jen by just scraping under 5. I did about 5.01 which meant less than 10 hours for both runs. I was really pleased with that, when I head to the US I'll be going a bit slower than that and taking more walking breaks (even if I do get shouted at). I thought I had time to pop inside and get a beer and come to watch Gemma finish but she was too quick too, finishing just a few minutes after me.

I hit the shower (MENS) and came out for the prize giving and to chat to some of the people I bumped into along the way. The 3 leading guys finished in just over 4 hours again, deciding not to race in amongst themselves today so only a few minutes from the first day separated them. Beth won the womens race and Jen was just behind in 2nd, not far off first and would have been in with a shout if she had not explored more of the A338 on day 1.

We retired the to pub to hear that Man U had lost while I tried to recruit Sandy to the ever expanding Serpentine Ultra-Running Army.

So all in all a great 2 days of running for me and another great show from XNRG. Shame I can't do their next 2 events on the Isle of Wight and on the Thames Path. Hopefully Neil can finally crack that 50/50 male/female split next time. I'll be sure to bring my ear plugs and wear them during the race too.