Brian Parish heads down the M3 for the first game of the new Villas-Boas regime at Chelsea.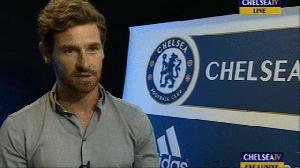 With the Daggers making the long trip westward to play a pre-season game at Mangotsfield United, Dan, Liam and I have made the trip south to Portsmouth to watch them take on Chelsea in a re-run of the 2010 FA Cup Final.
Portsmouth Football Club has had, what can be only be described as an eventful few years. Big name and big money signings preceded the 2008 FA Cup win, against Cardiff City at Wembley, which meant qualification for the last UEFA Cup competition. However, when Harry Redknapp left the club for a second time (this time to join Spurs), the club appointed Tony Adams, whose time in charge lasted a couple of months before he was removed from the post. Within two years of winning at Wembley, the club had become the first side since the formation of the Premier League to have points deducted, and were then relegated. Despite another FA Cup Final appearance in 2010 (beating Redknapp's Tottenham side in the semi final), the club almost went out of business last season, when rumours circulated that they were just a few hours from extinction.
The club survived, and after a consolidation season in the Championship, will be aiming for a higher placing this year. A good performance today against Chelsea will certainly help the confidence levels for the season ahead.
Last year Chelsea had, for their recent standards at least, a difficult season. Almost thirty years ago, the club finished in one of it's lowest league places ever (18th in the old, old second division), but since then, there have been a couple of second division titles, an electrified fence to keep the unwashed hoards off the pitch, an almost total transformation of Stamford Bridge, more managers than you can shake a stick at, a second, third and fourth league title, and more money thrown at the club than practically anyone could have believed. Even ten years ago, the club would have celebrated a second place finish in the league, but now it's a different story, and it cost Carlo Ancelotti his job, despite leading the club to their first League and Cup double in 2010. To try and regain the League title, they have turned to the youngest coach to win a European competition; Andre Villas-Boas (or Jose II as the press seem to want to call him), had one full (admittedly impressive) year at Porto, in which he won four trophies (the Portuguese League, Cup, Super Cup and Europa League), and before that was coach at Academica. I only know this because, since his appointment, it's been in almost every article I've read.
Saturday 16th July, Portsmouth v Chelsea, Fratton Park
Advance sales for the game had reached the 14,000 mark earlier this week, with Chelsea selling out their allocation of 3,000 in the Milton End. Given that they had cancelled their trip to Holland for a friendly last week, this was being billed (on the Portsmouth website at least) as the new coach's first game in charge of Chelsea, which to my mind at least, made the advance sales a bit on the disappointing side. Still, it meant that we were able to get a ticket easily enough, and opposite the main stand as well.
Rather typically for a July day, the journey down has been almost entirely in the rain, with some of it on the really heavy side. This meant that we were wondering if the game would actually go ahead, but after a detour via the city centre, we find our way out to the ground, and work out that the game is still on. There are loads of people milling around, which is a bit of a giveaway really.
Given that we are still so early into the season, the normal pre-match conversation would consist of what had gone on in the previous games. However today, aside from watching the kids on the pitch practicing their guard of honour routine, Dan found this gem on the internet (so it's bound to be true). He reckons that, if you place your infra-red car keys next to your head, and are over 50 metres away from your car, that you can unlock it. Who finds this stuff out, I have no idea, but it's a great idea. We can see his car from where we are sitting in the ground, and are over 50 metres away, but Dan resists the urge to put this theory to the test.
The teams emerge onto the pitch, and at the same time the teams are announced; Chelsea have announced a decent side for the first half, and what sounds like most of their first team as subs, meaning that there will be a total changed after the interval.
Torres starts up front for Chelsea, and within seven minutes, the visitors are in front. He chases a ball down the right side and manages to get a cross in to middle of the penalty area. Unfortunately for him the only player in the area is Malouda, but it doesn't get that far, as Tal Ben Haim plants a header past his own goalkeeper. As far as own goals go, it's a beauty, but what was going through his mind, it's anybodies guess. Perhaps he thought he was still playing for Chelsea.
Portsmouth don't really respond that much, but have a few corners, from which nothing occurs. The only highlight for them is the new super ginger colour sported by Dave Kitson, who has gone even more strawberry blond than before.
The break arrives with Chelsea still 1-0 up, and being honest, neither team has looked like changing that scoreline. It's not been a great half, and with the breeze blowing in off the water it's been a cold one so far. Normally when you attend a pre-season game, most are wearing shorts and t-shirts, but this must have the highest coat to fan ratio of any game I've ever attended in July.
As expected, Chelsea change the entire team at half time. A quick look at the new keeper and back four reveals shirts numbers of 40, 17, 26, 38 and 62; I ask you, 62? Complementing this is 46 in midfield, and Anelka is also now on the pitch, meaning a 39 as well. I've always been grateful that we haven't completely gone down the European route of squad numbers (99 anyone), but this is a bit far. Who grows up, wanting the wear the much coveted number 62 jersey?
The second half starts like the first, but the visitors are chasing everything down, and the only thing lacking from their play is another goal. However, it's Portsmouth who then have a couple of chances. First, a free kick from Hreidarsson is well held by Hilario, and then a couple of minutes later, Luke Varney is fouled by the keeper and the referee awards a penalty. Liam swears that he was offside, but the ref isn't taking any notice, and goes ahead with the kick. Varney takes the kick himself, but his weak effort is well saved.
From then on, the only efforts that the home side can muster (aside from one Kitson chance) are created by the visitors defence. Nathaniel Chalobah (him of the 62 shirt) heads a ball past the on rushing Hilario, but gets back to clear the ball which was going wide anyway. Chelsea have a couple of good efforts, notably from Drogba and Terry, but they are comfortable, even with it being only 1-0.
Two minutes are added, but people are leaving, and when the whistle goes, we are on our way back to the car park. It's been a good trip and it's another ground tick. Dan reckons that Fratton Park is a good old fashioned ground, and it's certainly out of keeping with the soul-less identikit stadiums that we often get nowadays. The new Chelsea coach will have lots to think about after this, but Portsmouth look an outside bet for a play off place. However, they need to keep the players fit; if they start getting injuries or suspensions, then it could be a long year.