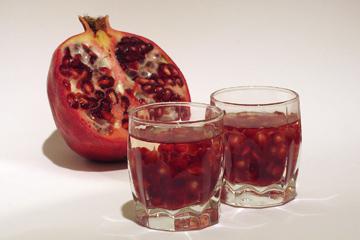 If you've only tasted grappa a few times and you found it a bit too dry, you will enjoy this spectacular after-dinner treat of pomegranate seeds soaked in pure grappa.
The sweetness and the tartness of the pomegranate perfectly balance the harshness of the grappa, which becomes sweeter and more palatable. In return, the grappa lends some of its alcohol to the seeds, giving them a pleasant "kick".
Also known as 'acquavite' ("grapevine-water"), grappa was born as an unpretentious liqueur made from the byproduct of winemaking (grape skins, seeds and stems). By the means of distillation and controlled aging, grappa became a more refined product (literally!), at par of other fine spirits. Grappa is popular in all northern Italy, and especially in the north east, where the city of Bassano del Grappa (60 km from Venice) is home of the prestigious brand Nardini.
Straight grappa is usually had as a digestive, although its pronounced dryness makes it an acquired taste for most people. More widely appreciated is the use of grappa as a coffee add-in, called 'correzione' ("correction") by the Italians. A 'caffe corretto' ("corrected coffee") is a traditional twist to the espresso ritual, an after-dinner favorite as it combines coffee and digestive. Aromatized grappa also targets larger audiences, especially in its fruit infused varieties, such as blueberry ('mirtillo'), pear ('pera'), and pomegranate ('melograno').
Ingredients for 4 shots
- 1 pomegranate
- 2 shots of unflavored grappa
Preparation
- Extract the seeds out of the pomegranate, place them in the shot glasses.
- Fully cover them with grappa, let them rest for 15 minutes.
- Serve in shot glasses, along with coffee spoons.