0 Flares
0 Flares
×
Pro Tips
In order to gain a following on Polyvore, there are steps that you are going to have to take on a regular basis.
Cross-Promote Your Sets on Pintrest
Any easy way to get more reach for your sets is to post them onto boards on Pinterest.
Dedicate board(s) to Polyvore sets. They could be seasonal boards – such as, "Spring 2013 outfits."
Get ahead of the game and embrace the statistics covered in Chapter 1:
43% of those 1 billion sets viewed are from blogs, Twitter, Pinterest, and Facebook. AND a set shared on Pinterest reaches 18 times the people and drives 2 times the traffic of a set shared on Facebook.
Check out this board dedicated to Polyvore outfits: ↓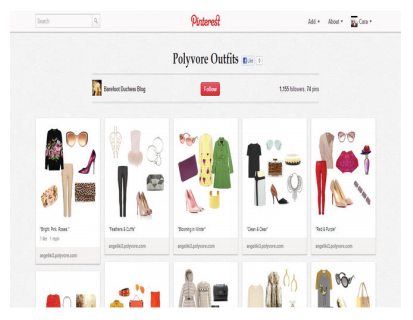 The Polyvore blog features member spotlights, updates, and tips.
In November 2012, Polyvore released the much-anticipated app for iPhones, iPads, and the iPod Touch.
Team up with other brands or retailers alike and present them with the idea of swapping sets or collections to increase your reach. Although make sure they're not your direct competition. If you're a shoe retailer, perhaps think of swapping with a local handbag retailer.
When uploading products to Polyvore with the Clipper Tool, consider uploading products with simple and/or solid backgrounds. White backgrounds tend to work best.
Run contests on a consistent basis in order to keep fans engaged and anticipating the next one.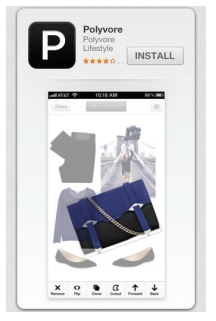 Polyvore Guide for Retailers & Brands: Groups & Contests