0 Flares
0 Flares
×
Collections
Now that you've made a set and a template, you're ready to start thinking about organizing your sets and favorite items into collections. A collection allows you to put both sets and items together onto a page. You can have a description for your collection, as well as a slideshow option.
Why should I make a collection?
Collections are awesome for organizing your sets and favorite items.
You can label collections by certain themes.
Both your own sets and items as well as others from the Polyvore community can be included in your collection.
You could showcase your fan's sets that includes your products in a collection of yours
A collection by Polyvore composed of sets ↓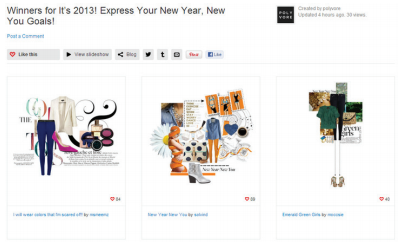 ---
How to Create a Collection
Step 1
Move your curser over the "Create link at the top of the homepage of Polyvore.

Step 2
You will see a drop-down menu. Click "Collection." You will be directed to the set application.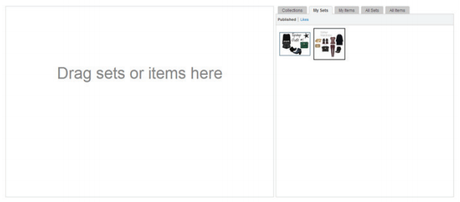 Step 3
Your sets will appear under the tab "My Sets" as seen above. You can drag them to the collection and drop them
as you would on a set.
The other tabs to choose from are:
Collections (your collections)
My Items
All Sets (other member's sets)
All Items
You can browse "All Items" as you would on a set as well, just without the categories. You can browse the items shown
initially or do your own search in the search bar.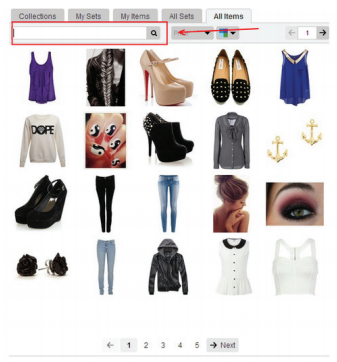 *NOTE: To delete a set or item from your collection, simply highlight the unwanted item and an "x" outlined in a red square will appear in the right hand corner of the image.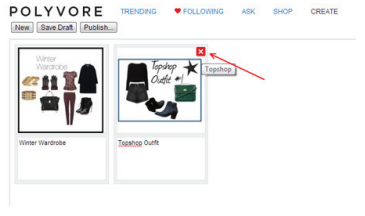 Step 4
If you're having troubles inserting items or sets into the canvas (see Glossary), refer to Chapter 4.
You can add descriptions of the images you put on the canvas.
Step 5
Once you are satisfied with the collection, press "Publish."

Step 6
A pop-up box will appear, and you will be prompted to fill in the name of the collection.
The option to making a description and enable sharing is available. Click "Add quick share account" to connect to social networks like with sharing your set.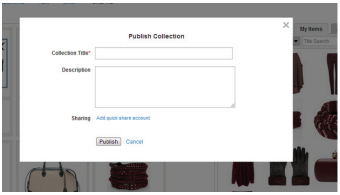 Check out "Polyvore Guide for Retailers & Brands: Templates"