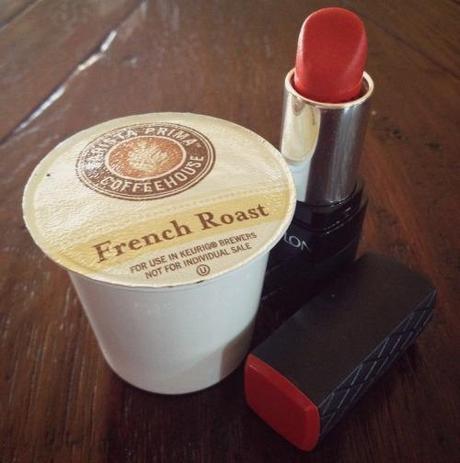 Barista Prima Coffeehouse K-Cup (aka my AM must-have) and Revlon lipstick in Red Coral
Poll: What's The One Makeup Item You Won't Leave The House Without?


We've all been there. You're running super late and have all of five minutes to pull yourself together before heading out the door. This usually involves shower-skipping, questionable fashion sense (as in what was I thinking with this outfit?!?) and a fraction of our usual makeup.
Me? When I'm pressed for time my go-to's include coffee (yes, I'm one of these people that would die before leaving the house fully caffeinated) and red lipstick. No matter the hair color, skin tone, or lack of all other makeup, I believe red lips can instantly make a gal look put together and magically take her from just-rolled-out-of-bed to polished-and-ready (it's like insta-glam in a tube)!
So what about you? When you're running late, what's the ONE makeup item you wouldn't dream of leaving the house without wearing, readers? Mascara? Eyeliner? Foundation? Blush? Share your comments below!