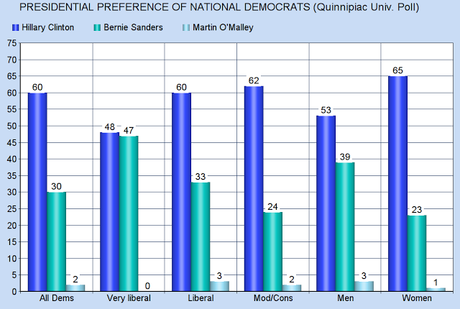 These charts were made from a newly released Quinnipiac University Poll -- done between November 23rd and 30th of a random national sample of 573 registered Democrats and 672 registered Republicans. The margin of error for Democrats is 4.1 points, and for Republicans is 3.8 points.
The poll showed no change in the Democratic primary race. Hillary Clinton (60%) still has a substantial 30 point lead over her closest opponent, Bernie Sanders (30%). Martin O'Malley is basically an "also ra" with 2% Democratic support. This is what polls have been showing for a couple of months now, and tells us the Democratic race is very stable.
The same can't be said about the Republican primary race. Donald Trump (27%) is still leading, but is not gaining any ground on his opponents. In fact, he has three opponents now that are only about 10 points behind him. Marco Rubio (17%), Ben Carson (16%), and Ted Cruz (16%) are virtually tied for second place in GOP support. Jeb Bush is still struggling with only 5% support, and no other GOP candidate could top 3%. The slippage of Carson (and Trump to a lesser extent, and the rise of Rubio and Cruz, shows the GOP race is still very volatile -- and will probably change further in the coming weeks.