Some of the most beautiful cities in the world have the honour of being twinned with Warsaw, capital of Poland and proud host city of Euro2012. Berlin, Buenos Aires, Madrid, Oslo and San Diego are just some of the names culturally associated with Warsaw. And then we have the British offering – Coventry. If this is the only impression the Poles have of our green and pleasant lands then I apologise now. No disrespect meant to the home of Jimmy Hill, Willie Carr and Talbot but it is hard to compare the Coventry Ring Road in the constant grey drizzle with Gran Via and its never ending nightlife in Madrid or the sunshine of San Diego's harbour. So I was sent on a mission to try to make the Poles feel that us Brits really do care. Oh, that and to see Legia Warsaw play against Zaglebie Lubin in the Polish Ekstraklasa.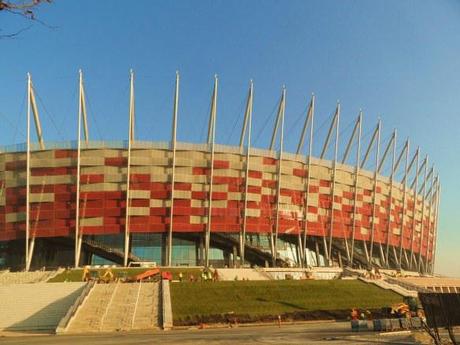 Poland had hardly appeared on my footballing radar since my days of getting my passport stamped for European football commenced back in 2000. One single visit to Krakow back in May 2008 was the sum total of my experience, which is quite unforgivable and forgettable as I spent that weekend with Football Jo talking celebrity rubbish. With Euro2012 almost upon us, those good chaps at
In Bed With Maradona
gave me a gentle nudge and reminded me of my duty to produce at least an online guide book for the championships, just as I had done for every major European football tournament since 2006 (such as the
now out of print 2006 World Cup Guide
). Oops, there I have gone and revealed a huge trade secret. Yes I can exclusively reveal here, today that there will be a IBWM/TBIR with guest stars
Ryan Hubbard
and
Danny Last
inspired guide coming to a screen near you soon.
So to make it as authentic as possible I set out on a schedule to take in the 8 host cities and see how things were shaping up for the big day(s) in just three months. First up was a quick overnighter to Warsaw, where the re-arranged opening day fixture for Legia Warsaw was being played. The game was cancelled back in August due to appalling rain and the final stages of redevelopment of the Stadion Wojska Polskiego imienia Marszałka Józefa Piłsudskiego (aka handily known for us foreigners as the Pepsi Arena). Now this wasn't one of the venues for the games next summer – Warsaw had decided to build the new 58,145 seater National Stadium on the other side of the Vistula River from the picturesque old town.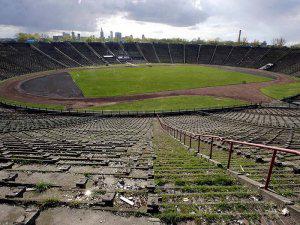 That magnificent venue is just a week away from completion, having been built on the site of the old Stadion Dziesięciolecia. When this opened in 1955, to mark the 10th anniversary of the liberation of Poland (the name translates to 10th Anniversary Stadium) it could hold 100,000 spectators and was a classic Eastern European venue – a huge open air bowl with wooden benches and floodlights that leaned down on the crowd, almost inspecting what each and every spectator was doing. However, when modernisation was required in the 1980′s the city had no funds and so football was ceased, the national team moving south to Chorzow and the stadium was used instead as the world's biggest flea market. Now I see the relevance to Coventry!
After I arrived in the city (no thanks to First Capital Connect trying their hardest to screw up my travel to the airport) I headed towards the national stadium site. It seemed every road/bus/tram in the city went that way so it wasn't hard to make sense of the Polish signage. Straight down Aleje Jerozolimskie, onto the Aleje Ksiecia Józefa Poniatowskiego and then do a left at Zieleniecka of course.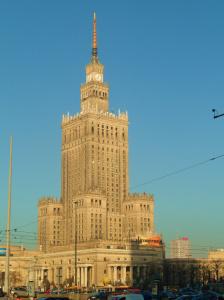 With the sun shining, the locals had dusted down their fine boots for one last hurrah and no one was complaining at such sits wandering around one of the last bastions of Soviet architecture, the Palace of Culture and Science which is still the tallest building in Poland, and remarkably considering the skylines of London, Madrid and Frankfurt, is the 8th tallest in Europe (well, until the Shard is finished).The building, when complete in 1955 was a gift from the Soviet Union to the Poles – quite touching really although perhaps a bunch of flowers and a DVD may have been sufficient.
After a tour around the outside of the magnificent structure (alas due to the fact the building is not complete yet, insurance restrictions meant we could only go as far as the steps). The 1.915billion Zloty stadium looks impressive from the outside and with the sun shining overhead, glistened.
Next stop was in the north of the city and the Stadion Polonii, home of the second Ekstraklasa team in the city, Polonia. A swift change of tram found me deposited outside the gates of the ground. And the gates were open. Wide open. So I did as all of us would do. I walked in, pausing to take a picture or two on the way.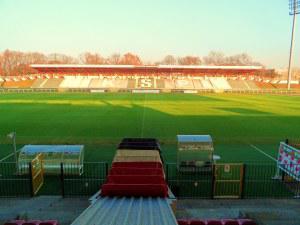 All of a sudden I was joined not by one, but two security guards. Not your English security guard, but Eastern European ones. Dark trousers tucked into big boots, think polo shirt and very large truncheons. They asked me a question in Polish. I responded in the only way I knew –
"English. Writer"
– I made the universal sign for journalist, which ironically is the same as it is for "the bill". One spoke into his radio and they ushered me out. But when we got to the gate they indicated I needed to come with them into the main building.
I weighed up my options. I could run, but I feared with my bag over my shoulder they would quickly take me down, so I went quietly. I was led into a room where a man sat behind a desk. "Please come" he said. So this was good cop/bad cops eh. I remembered my survival training and was ready to repeat my name, rank and passport number when he said "So you want to know all about the General Kazimierz Sosnowski Stadion?" I breathed a sigh of relief and twenty minutes later I had a friend for life as he took me around the ground, explaining the history of the stadium and the club.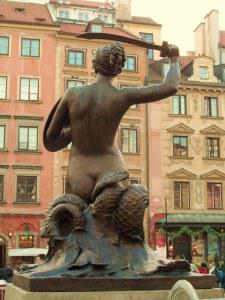 It was time for food and so I headed down towards the Old Town. This picturesque small area of the city was completely razed to the ground by the Nazi's in 1943 to suppress the Ghetto uprising. You would never know that today as it has been rebuilt painstakingly. I found a small restaurant that looked like an antiques shop. Weiner Schnizel, steaming cabbage with bacon, potatoes, two beers and a coffee to round it all off. The bill (or journalist) when it came made me scratch my head. 55 zlotys or about £11. Unbelievable Jeff.
Fully refreshed it was time to find the Platinum Residence, where I was staying. A Hotels.com cheapo – only £44 for the room for the night but like everything in this city it was unbelievable value. Basically it was a posh apartment, one that wouldn't look out of place in Chelsea village. I do what everyone does when they get to their hotel room. I stripped to my pants and walked around. What I didn't realise was the floor to ceiling windows looked straight into an office opposite where two Polish women got their Diet Coke break – well full fat Coke break in my case.
There is only so much time you can walk around in your pants for and with an early kick off I headed off to the bus stop and a non-stop ride down to the Pepsi Arena, joining the thousands of Legia fans, all dressed in their white shirts.
Legia Warsaw are domestically one of Poland's most successful teams. Nine time champions (the last time was back in 2006) and fourteen times Polish Cup winners they have also have a successful track record in Europe. European Cup semi-finalists in 1970, quarter finalists twice since including the Champions League of 1996 and often victors over English teams, they are currently on course for qualifying from their Europa League group with three wins out of four games. Today, the Pepsi Arena is a less intimidating place to come on a cold winter's night than it was a decade ago. The open air terraces have been replaced by smart green seats and a roof. In fact it wouldn't look out of place in a place like, well Coventry actually.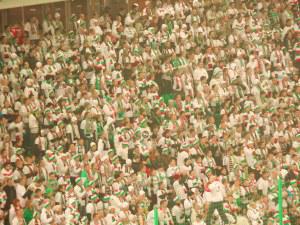 Legia's most famous player is Kazimierz Deyna, probably Poland's most famous ever player who was capped ninety seven times for the national team and played over three hundred games for the club. He also played for three years at Manchester City, becoming one of the first overseas players in the top level of English football in 1978. He also starred in the film Escape to Victory. He died aged 41 years old in San Diego and as a mark of respect Legia have retired his number 10 shirt and opened up a museum at the ground in his honour.
Press pass around my neck and a warming cup of coffee in my hand I headed up to the top of the stadium to see what would unfold in front of me.
Legia Warsaw 3 Zaglebie Lubin 0 – Legia Army Stadium – Wednesday 23rd November 2011
About 9.15pm I regained my hearing in both ears. Despite the stadium being at best half full, the noise generated by the home fans was deafening. I've seen (and heard) some decent fans in the past but for sheer noise and constant singing these guys take some beating (see for yourself here). Lubin on the other hand had brought six fans.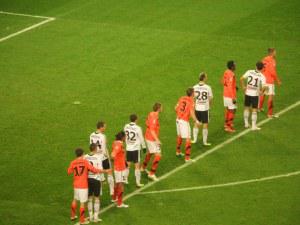 The game flowed nicely, with both teams passing the ball around. Lubin, wearing what can only be said was Man Utd's kit that had been put in the wash with a yellow hankie looked the better team to start but after twenty minutes it was the home side who took the lead. A great ball into the area found Ljuboja, who cleverly backheeled it into the path of Rybus who fired home. I believe this is what happened, but as you will see from
this video
(fast forward to 50 seconds) I was filming those fans.
Half time came and I headed down to the media centre. On the way I took a wrong turn and ended up in the VIP reception area. I made my apologies to the stunning girl on the front desk, picking up my jaw off the floor as I went and found the right door.
"You see the girl there." Said one of my colleagues, pointing at the smiling blonde on the reception desk. "She is a hostess". "We call then receptionists in England"."No, you English fool. She is a HOSTESS".
After I pulled myself away (away I said), I headed back up for the second half. Legia continued to impress and a counter attack on the 60th minute saw Radovic pounce on a great ball through the back four to make it two nil. It was inevitable that a third would arrive, and just fifteen minutes later it came as Ljuboja, the man with the skunk hair (black with a white stripe and not smelling) tapped home to make it three-nil.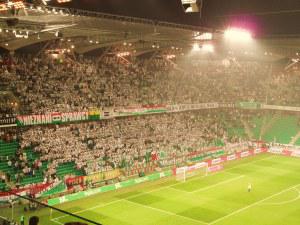 As the final whistle blew I made the mistake of not wrapping up, seduced by the heaters in the roof and almost froze as I stepped outside the stadium. The hardcore fans tumbled out of the ground, many in just shirt sleeves. They are made of hard stuff here in Poland. Twenty minutes later I was back in my apartment, trousers off and wandering around in my pants again. I had a 3.30am start so what would any sensible person do? Grab a couple of beers and watch the Champions League of course!
Four hours later and I was back at Lotnisko Chopin airport. I had spent less than £100 including food, drink, bed and football. If only all trips could be like Warsaw.
More pictures can be found here.