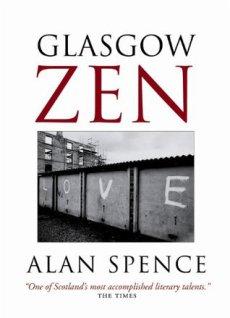 Glasgow Zen by Alan SpencePoet's Website
Amazon (UK)
Amazon.com
Canongate Books (ebook), 2012GLASGOW ZEN
On the oneness of self and universe...
130 Pages
A superb new collection of haiku and other short poetic forms on the theme of Glasgow - its people, landscape, culture. As always, Spence is uniquely illuminating, witty and delightful. Incorporating some of the poems which appeared decades ago in the much sought-after collection of the same title, Glasgow Zen includes mostly new material from this highly popular and exquisite poet.

IT'S AW WAN
TAE ME
Poems included:
Glasgow Zen is a brilliant collection of poetry, a modern take on the traditional haiku form. I absolutely loved it. Some of the poems were quite traditional and others, especially the Glasgow Zen segments, Paddy's, EM, Football Haiku, The Pundits and Glasgow's Full Of Poets were wonderfully modern, reflecting life in a modern city. I went through a phase years ago when I really liked Haiku. I've bought two large collections that I've never got round to reading. Some other form of poetry caught my interest and my love of haiku waned. Glasgow Zen helped me discover that love again.