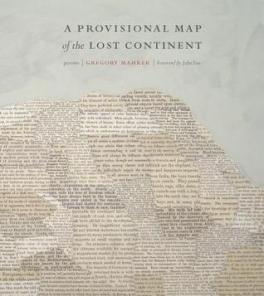 A Provisional Map of the Lost Continent by Gregory MahrerPublisher's Website (Book Page)
Amazon (UK)
Amazon.com
I was given this ARC by the publisher via NetGalley in exchange for an honest review.
Fordham University Press (ebook), expected publication date 1 April 201664 Pages
Find where the sevens are sewn....
Provisional Map of the Lost Continent charts a territory built of speculative histories, indeterminate landscapes, and mock narratives, all of them at the threshold linking exterior and interior worlds. Their logic is highly grammatical and slyly confounding, perfectly clear and drawn from dream. It is here, "between / what is occluded and what has elapsed," that Mahrer's ambiguous, disordered subjects begin their journeys.
RATING
RED CITY
Go toward the red city they said
and we went to where the ground
rose up against the stubborn dark of moon...
A Provisional Map of the Lost Continent is a beautiful collection of poetry. Each poem takes you into a wonderful world (i.e. Atlantis, El Dorado). I enjoyed the imagery in the poems. They were almost melodic at times, like tiny little songs. These are the kind of poems you can just relax back into your chair and sink into. I loved the poems Red City, Blackout, Refrain, Verge and As in the Letter O. A Provisional Map of the Lost Continent is a lovely collection of poems.