Six months a year
the river flows
away from the sea.
Entropy's fall?
No.
The fits and starts
of progress are
not rooted in
twisted time.
Here,
blacksmiths exist.
The hammer bounces
on the anvil
Tap-Tap-CLANG
Tap-Tap-CLANG
Ordered repetition,
until the steel begins
to bend and twist
and flex and tear.
It tears like taffy,
taffy glowing orange.
Tap-Tap-CLANG
Tap-Tap-CLANG
What is time for
that glowing rod?
The fire makes
its molecules
race and feud.
The hammer spreads
time into an eternity
of
Tap-Tap-CLANG
Tap-Tap-CLANG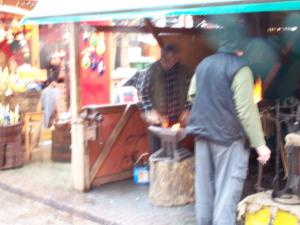 Taken in Hungary in 2008
Tags: photo, poetry, picture, photographs, poem, Steel, time, flow reversal, blacksmith, perspective, twisted time
By B Gourley
in
flash writing, poem, Poetry, Writing
on
March 6, 2013
.