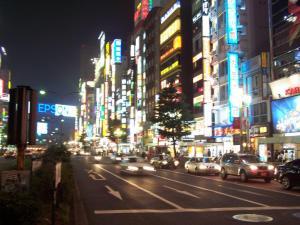 Neon animates a puddle
long after trains have quit.
It seems quiet and abandoned,
excepting those who flit
between afterhours rendezvous
where sake cups go "clink."
And a bare-chested yakuza
gleams with glistening ink.
An urgent rapping at his door
interrupts the spring sale,
granting coitus interruptus
he 's too few fingers to fail.
This entry was posted in Japan, poem, Poetry and tagged poem, poetry, Tokyo by
B Gourley
. Bookmark the
permalink
.