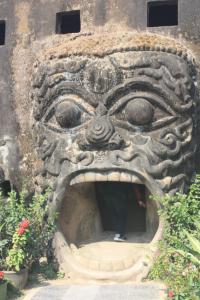 The scream that shears souls off like tear-away suits. On the gasp, those souls are sucked inside that wide mouth. So hot does the heat grow that it glows like a flaming pumpkin. The monster's got a bellyful of souls, fired into a forge of rage.
Wild-eyed and never a child - birthed into a blind fury. Sightless, those wide eyes - all expression no vision. Like the teeth that aren't free to chew, but none-the-less seem fierce in form.
It looks the part of one who hates love, loves hate, but knows neither.
This entry was posted in poem, Poetry and tagged poem, poetry by
B Gourley
. Bookmark the
permalink
.