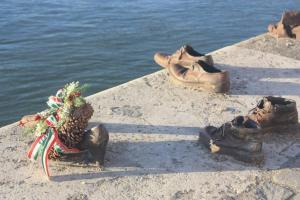 Radnóti wrote, "Walk On, Ye Doomed"
[Járkálj Csak, Halálraítélt!]
in 1936 -
Eight years before he was force marched to death by Nazis.
And I am left to wonder whether he was a prophet,
or whether the Poet's obsession with death makes him seem prophetic.
Whether he was a prophet or not, he was true to his poem.
There's at least 750 kilometers between the copper mines of Bor and the tiny northern Hungarian town where he was killed - a place closer to both Bratislava and Vienna than to Budapest.
Call it 500 miles on foot,
emaciated from cracking rock for copper to build the war-machinery of those trying to erase a people - his people.
They found a pocketful of poems on his person when he was exhumed.
If you can't think of anything else to do in the act of slogging at gunpoint across two countries than to craft poems, you are not a poet, you are THE Poet.