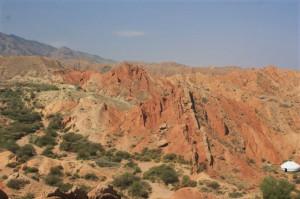 Down in the Fairy Tale Canyon
hides a dragonesque companion.
Its spine plates jut from rusty sands
in this ill-known Silk Route badlands.
If you see the ground start to move
you'd better have a countermove.
This entry was posted in Kyrgyzstan, poem, Poetry and tagged Central Asia, Fairy Tale Canyon, Issyk-Kul, Kyrgyzstan, poem, poetry by
B Gourley
. Bookmark the
permalink
.