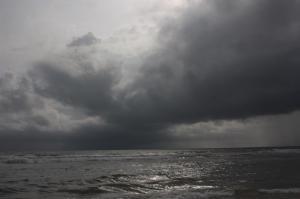 Rain sidles up in a commanding cloud

-- early --

And so it waits in its cloud,
like the awkward party guest
who sits in his car,
waiting to be fashionably late,

but - not having decoded 
what "on-time" really means -

arrives early, nevertheless.
This entry was posted in Free Verse, poem, Poetry and tagged clouds, Free Verse, nature, poem, poetry, Rain, Vers Libre by
B Gourley
. Bookmark the
permalink
.