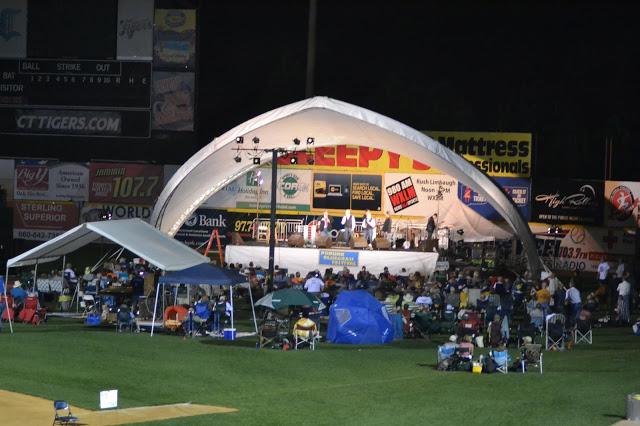 From the festival's 
Facebook page

Podunk Bluegrass Music Festival, Inc.

 shared a link.
17 minutes ago
April 13, 2013
To the great supporters of the Podunk Bluegrass Festival:
The members of the Podunk board are sad to report that the 2013 festival is canceled. The board worked tirelessly to develop an alternative location following our forced departure from East Hartford. The Town of Norwich and Dodd Stadium location looked promising and provided a good venue for the 2012 festival with the potential to develop into a long term home for Podunk. Unfortunately, there was a conflict with home baseball games for the 2013 festival dates and neither the Tigers' nor Podunk schedules could be adjusted. The path to make Dodd viable in following years is not sure for the same scheduling issue.
The board immediately began searching for an alternate venue, and some locations looked promising. Various fairgrounds, parks, and public spaces were investigated for potential Podunk use. No location within the state was off limits if it could work. Some locations would have changed the nature of the festival to a town fair with multiple stages at various locations, and others, including Kelly Middle School in Norwich, were short camping space on site or priced out of range.
After months of effort, the board has not found a clear, long-lasting solution for Podunk's home. In order to provide artists enough time to make alternate plans, the board believes it necessary to cancel the festival at this time for 2013, and devote our time and effort to the 2014 festival. The desire is to find a home for Podunk and develop the financial backing necessary to bring back a strong world-class festival in 2014 that can vie for Festival of the Year, just as Podunk was named in 2010.
For the great Podunk supporters who have purchased advanced tickets for the 2013 festival, the board has agreed to give you two options. One is to convert your ticket cost to a tax-free donation to Podunk Bluegrass Music Festival to continue our efforts to bring you a top-notch festival in 2014. To thank you for such a donation, you would be our guests at the next Podunk Festival. The other option is a complete refund of your advance-purchase ticket cost. You can let us know by sending a letter to Podunk 80 Brandegee Lane, Berlin, CT 06037 or an e-mail to [email protected]
We are truly sorry that we cannot bring you a festival in 2013, but we hope you can make plans to join us in 2014. You can stay abreast of Podunk developments by checking into the Podunk web site at http://podunkbluegrass.com/
You can also join us on Facebook at https://www.facebook.com/podunkbluegrassfestival
Podunk Bluegrass Music Festival
podunkbluegrass.com
Official site of the Podunk Bluegrass Music Festival, Inc.