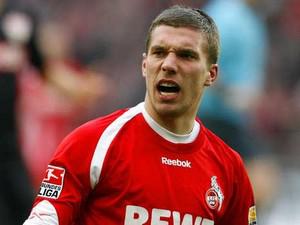 Podolski is integral in FC Koln's Bundesliga involvement
News of Arsenal's interest in the German striker came as no surprise to me yesterday – a constant threat and consistently excellent performer with the  North Rhine club, the twenty-six year old surely has all the ingredients to showcase his talents at a top club. I can only imagine that he and van Persie together would make a lethal combination in the Premiership and Europe – the Dutchman's magical feet & artistry, the Polish born stars' striking ability and predatory instincts – he could possibly be the final piece in the jigsaw with which Wenger needs to impose a title challenge.
He has been at this juncture before in 2006 – following the relegation of Koln from the Bundesliga, even with Podolski's dozen goals – he felt he could no longer be the talisman at the club. With many clubs circling, he choose to stay in Germany and a move to Bayern Munich was finalised before the 2006-07 season began. After a slow start, Lukas managed a few goals before a training ground incident with Mark van Bommell ruled him out for a period and disrupted his first season in Munich. The majority of his tumultuous spell in Bavaria was spent warning the bench, misfiring and generally not settling in.
A return to the RheinEnergiestadion was inevitable and following Luca Toni's arrival at Bayern in 2009, Podolski's striking berth looked untenable. Lukas started with the FC Köln youth team and being his childhood hometown, the special bond has never left. The club put their full funding behind the return of the player and even partly funded the transfer with an online sale of Podolski Pictures on their club website – this raised around €1m for the kitty. When Podolski returned, so had the club to Germany's top flight – his first full season back seemed to back up the saying that you should never return to a former club with only three goals to his name during 2009.
Since then he has felt more at home and managed an impressive twenty-three goals in almost seventy appearances – for a team usually skirting just above the relegation zone that's a stunning ratio. The prodigal son has returned and with the striker and family settled & the club fawning over their indispensable asset surely there is no question to be answered over a move? His starring role with Köln has been integral to their Bundesliga survival over the past two seasons and without Podolski they would surely not find such an all rounded or committed player. He is still also one of the first inclusions in the National squad and so staying in Köln would not affect his Euro 2012 or World Cup aspirations – therefore the only question is about personal ambition?
There is no doubt that Lukas Podolski would be anything other than a revelation in England – a bustling hardworking forward is the epiphany of the English front man. His country & his club are everything to Mr Köln, but there must be a niggling desire to prove he can fully adjust to another country & lifestyle and be commended & recognised with a top side. After reading the tragic story of former German number one Robert Enke, it seems that a continual need for reassurance and praise at a higher level of football can be detrimental to your health and abilities to operate on the pitch.
The former Hannover stopper had two such abrupt and disastrous spells at Barcelona and Fenerbache – the latter lasting only one game after a debut which ended in a storm of lighters and coins surrounding his goal mouth following a hefty defeat. Men who show total commitment to their clubs are a dying breed, the adulation shown for such players as Francesco Totti at AS Roma & Joseba Exteberria with Atlethic de Bilbao is fanatical and such players are revered forever in their clubs history books. A local bar just off the main square in Köln would though save some money from the players departure, their "Podolski Special" means all your kölsch that day is for FREE, whenever Lukas scores the last goal of a Bundesliga game – The Corkonian in the cities' Alter Markt would rather take that hit then have their Number Ten exit in January. But can the club afford to rebuff a potential – which I would estimate at upwards of £12m – in their coffers?