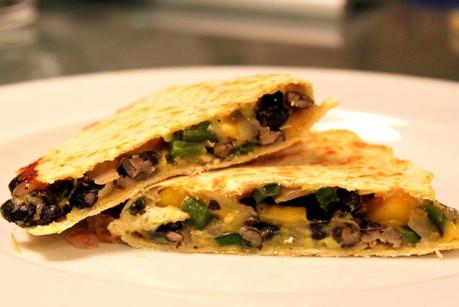 I know what you're thinking.
Mango with Black Beans and Cheese? That sounds … not so great.
That was my husband's first reaction when I mentioned that I'd be making this recipe for dinner. It was like disrupting his idea of the quesadillas he grew up with and loved.
But, being the supportive hubby that he is, he agreed to try this creation. That's one of the things I love about him – even if a recipe freaks him out conceptually, he'll still be willing to try it for me. I think it's probably because I've built up a pretty good track record of making healthy recipes taste pretty amazing – so he trusts me when I push him to try something new.
This recipe was no different – it was delicious!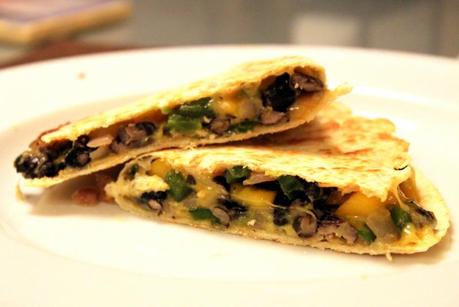 It had a wonderful sweet and spicy flavor profile, and had great texture from the veggies and the crispy tortilla. The recipe was inspired by one I found on myrecipes.com, but I've made a few modifications to make it healthier, namely the tortillas and the amount of veggies. I also changed the cooking method to make it taste more like traditional quesadillas.
The Ingredients
1  teaspoon olive oil
1 1/2  cups diced red onion

  

1/2  teaspoon dried oregano
1/4  teaspoon salt
1/8  teaspoon black pepper
2  poblano peppers, seeded and chopped
1  (15-ounce) can black beans, rinsed and drained
1 fresh mango, diced
1/3  cup  cubed peeled avocado
Whole wheat tortillas, or whole wheat and corn tortillas (any high fiber tortilla will work well)
Olive Oil Cooking spray
1/2  cup  (2 ounces) shredded reduced-fat mexican cheese blend
The Directions
Step 1: Chop all of your veggies. For those of you who don't know what poblano peppers look like – they look like this: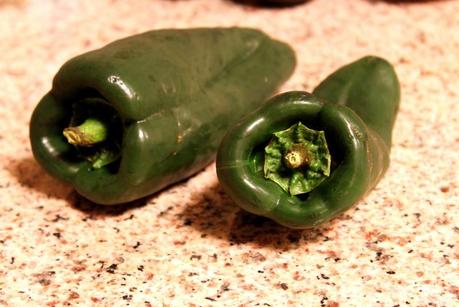 First I chopped the onions and peppers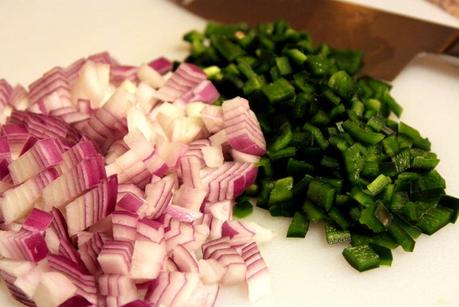 Then the mango – the easiest way to cut it is to cut around the seed in 4 thick slices (height wise). On each piece, cut down to the skin in a criss-cross fashion, making a grid. Then invert the mango and then cut the cubes off the skin – here's a picture of the cubes inverted – it makes it really easy to cut the mango!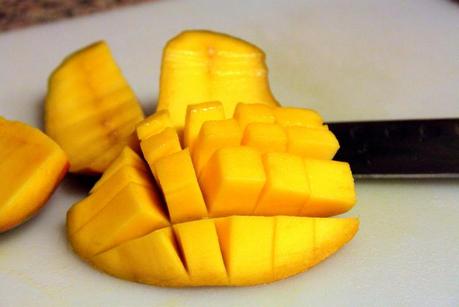 Lastly, the avocado – one of my favorite additions to any dish!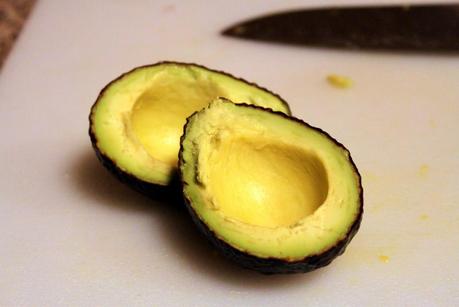 Step 2: Heat oil in a large nonstick skillet over medium-high heat. Add onion, oregano, salt, pepper, and poblano, and sauté 5 minutes or until onion is tender. Add beans; cook a few minutes more or until thoroughly heated.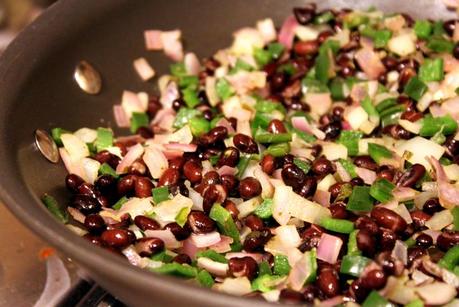 Step 3: Remove from heat; stir in mango and avocado.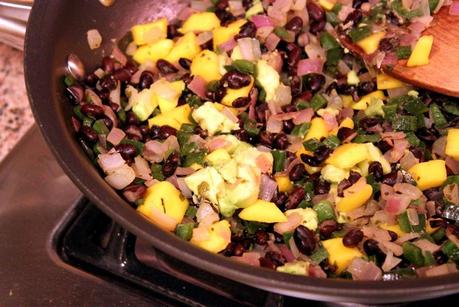 Step 4: Now it's time for assembly. Take one tortilla, and arrange about 3/4 cup of the bean/veggie mixture on half of the tortilla. Sprinkle 2 Tbsp cheese over the bean mixture and fold the tortilla in half.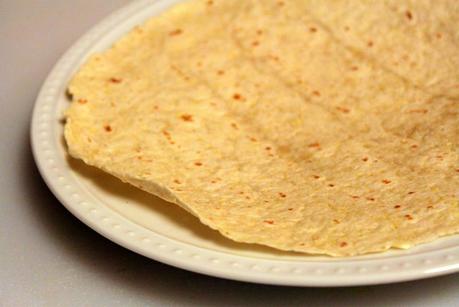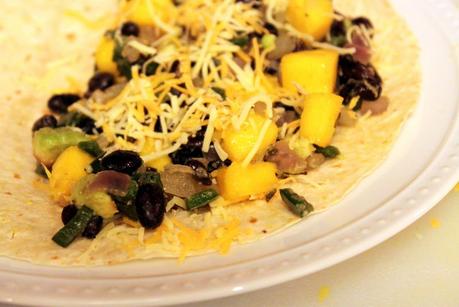 Step 5: You have two options for cooking. The way I cooked these was by spraying a large pan with cooking spray and heating over medium heat. I placed the quesadilla in the pan, and cooked it on either side until it was lightly browned (a few minutes on each side)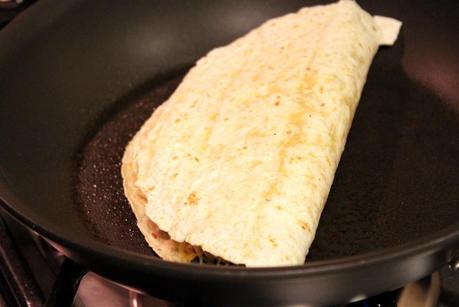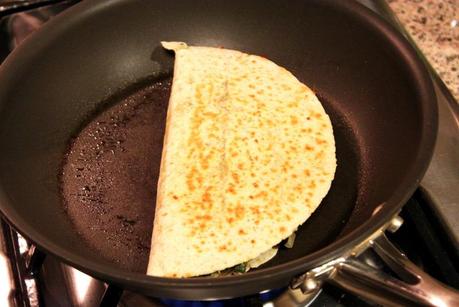 This method is super easy, and perfect if you're just making a few quesadillas to order (like I was for me and the husband).
If you have to make these in bulk, like for a big family or party – you can cook them all at once using a broiler. Here's how: Preheat your broiler. Assemble all the quesadillas, place them on a large baking sheet coated with cooking spray. Spray the tops of the quesadillas with cooking spray, and place them under the broiler (in most kitchens this is the top rack of your oven). Broil for 5 minutes or until cheese melts and the tops are nice and golden brown.
Either way you cook them, the inside of the quesadilla should be gooey and melted like this: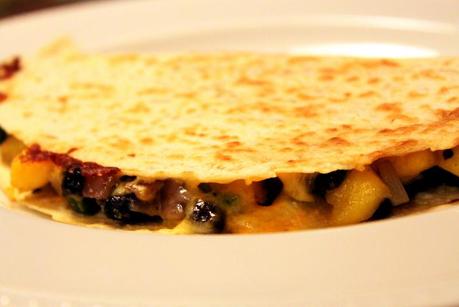 Yes, it tastes as good as it looks.
The husband loved this dish – we ate it with a bit of salsa on the side. Each quesadilla has only about 300 calories, with 7g fiber and 13g protein.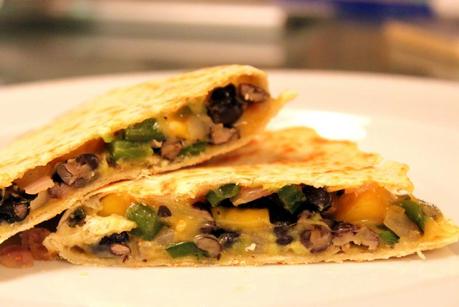 With the cheese melted all over the veggies, and the creaminess of the avocado running through the dish, you'll forget that this is actually good for you! This is the way I like to do comfort food – secretly healthy, and not-so-secretly delicious.