I've been a SAHM for seven years to three great kids while hopping across the globe as a military wife, but I'm ready to head back to work and will hopefully go back to teaching high school English this fall. My wardrobe is VERY bare bones and consists of cheap, well-worn clothes. I really don't like all the dark clothes that so often plague plus size work attire and I would love a wardrobe of bright, fun clothes that are appropriate for work. At 36, I'm finally giving myself permission to buy a real wardrobe and a capsule wardrobe would be ideal for me. Do you have any ideas on where I can start?
I have no idea why so many plus size retailers feel that their customers want dark dreary clothing. It seems they either go the black and bland route, or the other direction with garish polyester prints or sexy silhouettes inappropriate for the workplace. Luckily, there's a lot of new plus size retailers on the scene who get that women of every size and shape want fun and flattering fashion in cheerful colors. Below is a sample capsule wardrobe for a plus size professional in a business casual setting and some tips on where to shop for colorful and chic plus size fashion.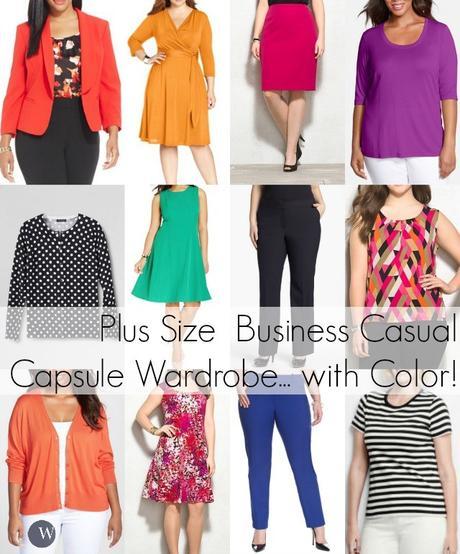 When dressing for the workplace, especially in an educational setting, color is great. However, it's good to have a couple neutrals mixed in to balance the brights and keep you from looking like a cartoon. For this capsule wardrobe, I chose black and black and white prints to temper the bold colors. Black could be traded out for khaki, gray, navy, or olive though black (and you already know from the limited color selection you've encountered) is the easiest to find in plus sizes and works year-round. Having a few staples in a neutral - a cardigan, a pair of well-fitting trousers, a skirt that hits at least the knee and is easy to move in, a shell or blouse... these can really extend your colorful wardrobe.
When looking to have a varied wardrobe with fewer pieces, toppers are tops. While blazers may feel too stuffy for the classroom, when paired with cropped pants or slipped over a dress it can be chic and give you a different silhouette. The blazer featured has a single closure and shorter length making it work nicely over fit and flare dresses or fuller skirts while also looking great with trousers, pencil skirts, and even a pair of jeans on Casual Friday. Cardigans are a great way to transform the look of tops and dresses and useful when you work in an overly-air conditioned environment. A solid color that complements your capsule wardrobe is a great choice, but I also encourage you to consider a print. Again, a black and white print is a great complement to bold colors and when you choose a classic print like animal, polka dots, or stripes it is a print that mixes nicely with other patterns like florals, plaids, and watercolors.
Dresses are easy one-piece dressing, but you need to consider professionalism along with personal style and figure flattery. When collecting dresses for this post I was floored by how many dresses are deemed "work appropriate" by plus size retailers yet were far more appropriate for a third date to a nightclub. No matter your figure or place of work, it's never appropriate to have large cutouts, any stomach or lower back displayed, skirts so tight you can see where your legs join your body, the indentation of your belly button, or the separate cheeks of your rear; a neckline that shows more than a small portion of cleavage, or any garment that displays your underpinnings. If in doubt, size up and take to a tailor to nip and tuck for a great fit. Wrap dresses are a great choice; consider a demi-cami for modesty in the workplace. Fit and flare dresses are flattering and look great topped with a jacket or cardigan. Lined or double-layer dresses smooth the figure and usually look more expensive. Especially when working with students and being active, look for skirts that hit at the knee or lower.
When it comes to skirts and pants, balance is important. It's tempting to wear loose clothes when you're larger but all that does is make you look sloppy. A straight, a-line, or pencil skirt can be quite flattering with a tucked-in blouse or fit and flare top. If a tucked-in top makes you feel awkward, top with a cardigan for a bit of coverage. Ankle pants that are straight or slightly fitted are a great addition to a capsule wardrobe; they make blazers look trendy, make tunics and floaty tops look hip, and are quite flattering when paired with pointed-toe heels or even flats. A pair of basic trousers are a must; pair with a printed top for those days where you aren't up to creating a creative look or wear with a blazer for that assembly or conference. Also consider a ponte or scuba knit skirt that is a bit flippy or full and hits below the knee; paired with a knit top and cardigan this is a great look for the classroom and comfortable to boot.
When it comes to shells and tops, this is where you can really show your personality. Fun prints, bold stripes, interesting necklines, ruffles and pleats and bows oh my! Again, don't be afraid to consider tops that fit for they will actually be more flattering than dressing in blousy and oversized pieces. As with the dresses, consider appropriateness for the office. Watch necklines, steer clear of too much sparkle or bedazzlement, cut-outs, and "cold shoulder" tops. Sometimes it's worth it to spend a bit more for these tops to get higher quality materials that drape better, prints that are more elegant, and better fit. In a business casual setting, you can get away with jersey and synthetic knit tops, but it still is important for these more casual pieces to fit well and be in great condition. I love a printed
As for retailers, there's far more color online than in stores. As a previous retail merchandiser, selection in brick and mortar stores is chosen by the mall or shop estimated demographic. When I worked in Annapolis, my store received more dresses, pastel colors, and neutrals than when I worked in Wheaton, Maryland where I received every color under the rainbow and more "going out" tops and dresses. Online, shops cater to all demographics and you can find better selection. There's also a lot of great online-only plus size retailers who embrace color. Check out ELOQUII - their Kady Pant collection alone will thrill you with the rainbow of work-friendly options. Hey Gorgeous! sells a ton of fantastic plus size brands like Carmakoma, MYNT 1792, and ABS by Allen Schwartz that have color and work-friendly silhouettes. Karen Kane is a great choice for color, print, and comfort with style. The JONES Studio collection at Dress Barn is great for plus size work fashion with color. Nordstrom has a really fantastic plus size department and carries many of the previously mentioned brands plus many more.