By Susan Duclos
Note
- Family visiting so blogging will be slow and posts shorter than usual for the next week.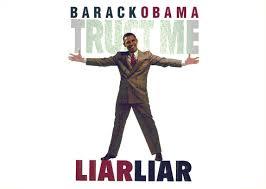 Bloomberg reports
that almost half of  Americans think Obama is being untruthful about the IRS scandal, with 53 percent of Independents saying that Obama's claim of when he learned about the IRS targeting of conservatives and Obama's political enemies, is untrue.
Forty-seven percent of Americans say they don't believe Obama compared with 40 percent who say he is being truthful, according to a Bloomberg National Poll of 1,002 adults conducted May 31 through June 3.
More than half of political independents -- 53 percent -- say Obama's explanation that he learned it from media reports is untrue, while 34 percent say they believe him.
"How could he not know?" said poll respondent June Wilshusen, 50, of Yuma, Colorado, a political independent and a stay-at-home wife married to a machinist. "I think any president has to know what's going on with our government. I think they're very aware of the IRS."
The doubts about Obama's credibility come as a series of scandals have dominated news coverage, helping to diminish a post-election surge in the president's popularity and optimism about the direction of the country. Obama's job approval rating declined six percentage points since the last Bloomberg poll in February, to 49 percent from 55 percent, returning to its lowest level since last September.
Republicans aren't the only ones that believe Obama lied and continues to lie.