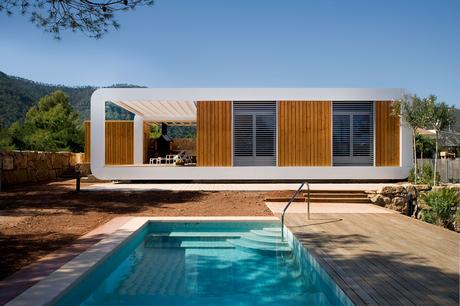 New pine and spruce wood from the Pyrenees (both recyclable and PEFC certified) were selected for the façade of the 1,000-square-foot prefab. Smart blinds cover the windows, rigged to open and close depending on the weather forecast. 
With the help of the prefab experts at NOEM, an outdoorsy Spanish family created a high-tech countryside retreat in Serra d'Espadà. Architect Aitor Iturralde Martín says the design team opted for a clean, contemporary look that would be a departure from the concrete and brick houses that otherwise populate the area. The house is a simple two module configuration that is punctuated by a terrace and bold metal structure that "projects towards the landscape." The entire structure took only 10 days to assemble.
Insulation made from wood fiber, sheep wool, and recycled cotton is one of the many elements that help make the home sustainable. Other green features include passive-house construction standards and a heat recovery ventilation system to welcome in fresh air.
The sanctuary is also smart in another respect: various intelligent control systems automate its energy-consumption. "We installed sensors and actuators through a home automation switchboard to be able to monitor and analyze all systems in real time and achieve superior levels of energy-efficiency and comfort," Martín says. "Temperature, humidity, energy consumption, sunlight, and air quality data are analyzed by the switchboard, which according to the settings can activate different systems automatically."