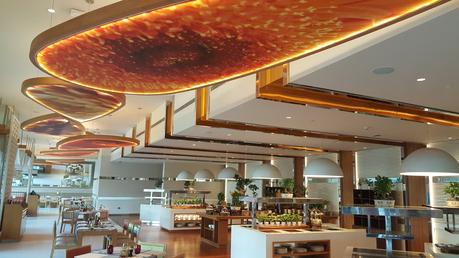 Can a new Chef bring a refreshing change to a menu that has already got many rave reviews? I am visiting Pluck at Pullman Hotel, Delhi almost after over two years and it made me fall in love with it all over again. The modern finesse of its décor is still the same, however pluck has few new additions starting from the menu. Pluck that started as a European restaurant, now also features modern Indian and a jugalbandi of both European and Indian dishes. It also has a beautiful menu on the tab that has less than 30-second videos to show how each dish is made and presented so that diners have an idea what they are going to eat (and salivate) even before it hits their table. And they have a new chef to take care of Pluck – Chef Shyam Dhar Rai, whose name may be typically Indian but with his International experience as part of cruise ships, can really make you lick his fingers with the European dishes that he presents.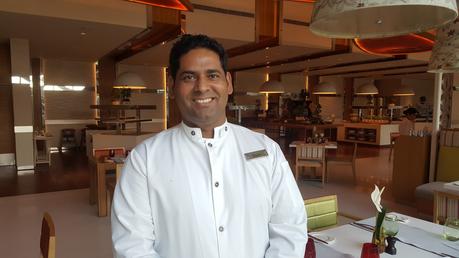 Let us start with the Tab menu. Not only this easy-to-navigate menu gives you an idea of how the dish will look like and its key ingredients but you can also customise the menu basis your allergens like – Egg, Soy, Gluten free, lactose free, shell fish, nuts etc apart from your preferences like no added sugar, spicy etc. It even gives you wine recommendations. I wish that the tab also shows the wine pricing alongside which will make the experience seamless.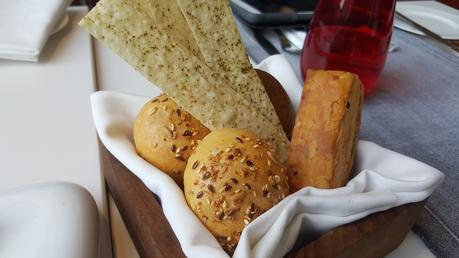 Most of us miss mentioning about the complimentary bread basket and butter served in most European restaurants in the city. Perhaps we miss mentioning because they are just too boring. Pluck's artisanal breads can't be ignored. They are crisp, light and tastes amazingly well. We were served multigrain roll, rye roll, multigrain puff and lavash spiced with zattar. The butter was even more interesting. This butter was stuffed with pistachio and has flavor & color of pommery mustard and beetroot powder. The starting statement made well and certainly impresses.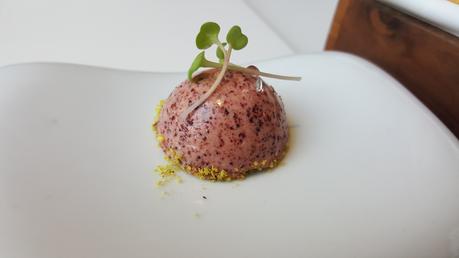 My meal starts with
Lobster Bisque
. This warm thick and creamy soup has three elements – the soup by itself, the salad that has chunks of lobster and lobster flavoured butter served with soup sticks. I am told a lot of butter is mixed while making the bisque and this butter once infused with lobster flavors is later taken out to be served separately. Salad is mixed with bisque and each sip/bite tastes heavenly.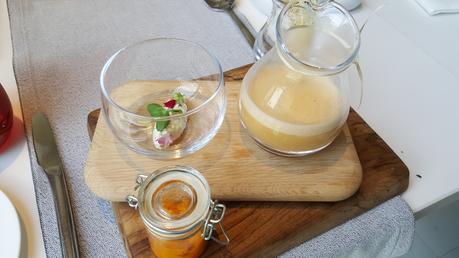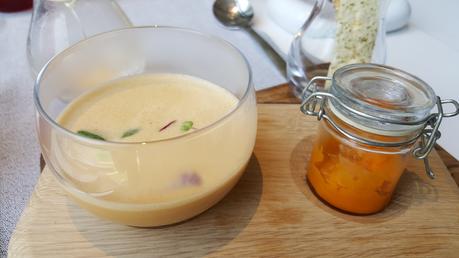 Texture of Amarantha is an innovative salad with three types of nutritious amarantha used in the dish – Fried, crispy in form of chips and boiled. Feta cheese is coated with fried amarantha and green apple is poached in turmeric before being served. Chopped cucumber, pomegranate, peach puree on the bottom completes the salad while yuzu and ginger dressing provides the tartness. Here I like the innovation more than the taste, which is more to do with my personal dislike for amarantha.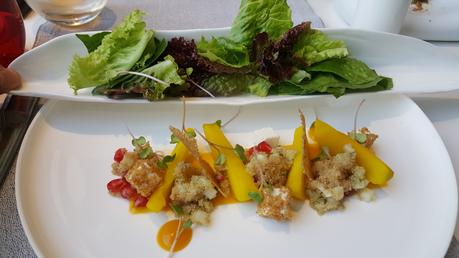 In the entrée we are served
Baingan bharta tortellini
. This is such a brilliant dish where India meets Italy. The smoked bharta is paired with whipped cheese tortellini filled with ricotta, parmesan and mascarpone. Ginger and cumin tempered yogurt like our Indian Kadi provides the dressing and olive streusel is sprinkled on top. While olive streusel is a new condiment obsession, I am trying it for the first time. I ask the chef and he explains that it is made with almond powder, butter and dehydrated black olive. However if you still want to know more like I did, check this link:
https://www.foodandwine.com/recipes/beefsteak-tomato-and-burrata-salad-olive-streusel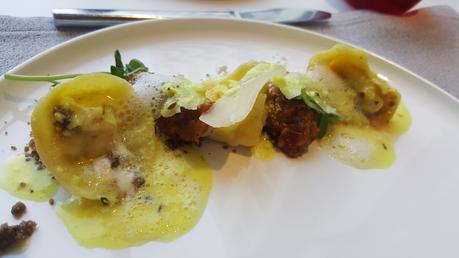 We are 4 people on the table and each one orders a different dish so that we can all taste most of the new menu at Pluck. First dish is
Chicken Doughnut
. It's basically a pasta sheet rolled with chopped tandoori chicken and topped with gratinated cheese sauce. Makhani sauce is frozen, coated with egg white, semolina and fried. It is served on the side to provide a bite to the entire dish.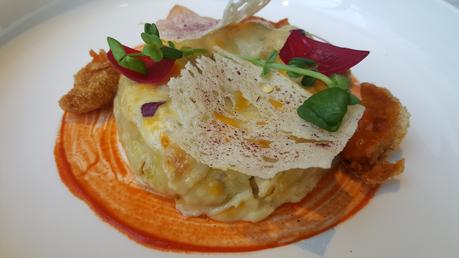 The
deboned lamb shanks
are next. It is beautifully braised and served along with nihari jus. The barley pulao is delicious and makes for a great accompaniment. This dish is dusted with what chef calls podi. I have heard of South Indian podi masala, but am told this podi masala is Himachali where fried and blanched curry leaves are used. Hopefully I will learn more about it in times to come. This dish comes with thin crisp made with makhani gravy again.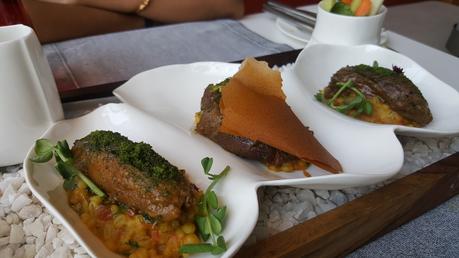 If you have had prawn malaikiri or Daab Chingri from East then be ready for a surprise.
The jumbo prawn cooked in malai gravy
here not all that mild. Excellent quality of prawns served with cous cous upma that also has chopped prawns mixed in it is one of my favorite here. If you like it more spicy, try mixing gun powder or curry leave gun powder that is served along side.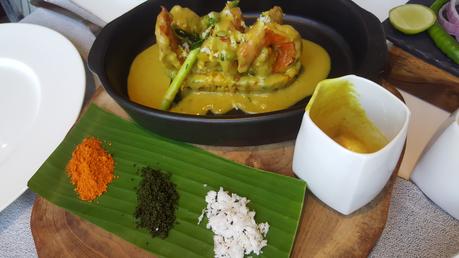 The last dish is the
North frontier chicken breast
with makhani curry. Brown rice paella is served in a soft roll and the dish is paired with pomello salad and red cabbage puree. Pluck is doing a great job in bringing many interesting dishes together. However I fail to see the fixation for makhani gravy. As a crisp, makhani balls or as a gravy, the varied use of makhani is innovative however it is neither lending a flavor nor giving dishes another dimension.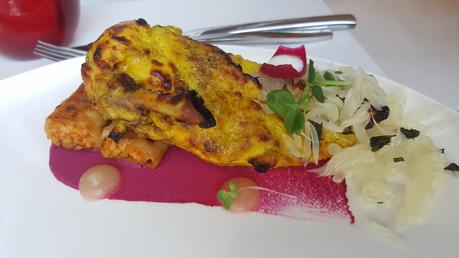 My entire meal is paired with Santa Cristina Pinot Grigio suggested by inhouse wine sommelier –
Kriti Malhotra
. I met her first at The Wine Company and she has never failed to impress with her wine knowledge and simplicity with which she explains the wine jargons to a common man. Loved this fresh and simple wine that went well with almost every dish.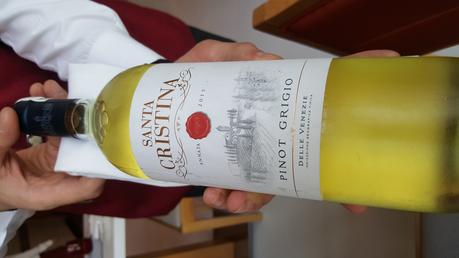 I am not a chocolate fan, however I am recommended
pliable chocolate with mango sorbet
. I  must say this is a treat even for non chocolate lovers. The chocolate is soft with almost velvety texture. Paired with caramel popcorn, microwave sponge, chocolate swirl and yogurt ganache, this dessert is love in every bite.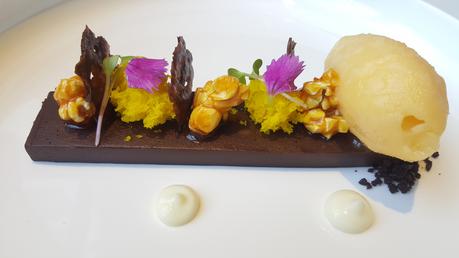 The new menu at Pluck brings in lot of freshness. It has some exotic sounding ingredients and they still satisfy the palate. I will be happy to go back and see if they can again stretch themselves to give another twist to passé makhani.
Ratings (Out of 5)
Food: 4.5 | Service: 5.0 | Ambience: 4.5 | Overall: 4.5
Timings: 06.30 am -11.30 pm | Meal for two without alcohol: ~5000/++ | Alcohol: license awaited | Disabled friendly: Yes | Cuisine: European
Address: Restaurant PLUCK, Hotel Pullman, Aero City, Asset no. 02, GMR Hospitality District, IGI Airport, New Delhi 110037 | Tel: +91 11 46080835