Brian Parish brings us the latest from Dagenham & Redbridge as they took on Oxford United on Tuesday night.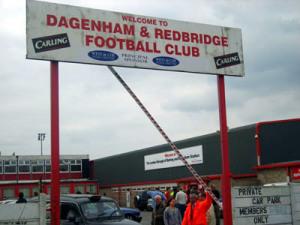 The last few games have provided a reminder if any were needed, that this is not going to be the easy ride that some may have hoped for. After the draw at home to Torquay at the end of August, we lost our next game at Hereford, and then continued our poor record against Rotherham (in the league at least) by losing last weekend up at the Don Valley. In between, we managed to maintain our unbeaten JPT record against Leyton Orient, when following a 1-1 star after 90 minutes we won on penalties, by 14-13. Goalscoring is proving to be a bit of a problem (though not in penalty shoot outs, it seems), with just five goals scored in the opening seven games. Defensively we aren't too bad, but it's up front that we have a bit of a problem.
Back in 2006, Oxford United were starting their first season back in non-league football, following their relegation a few months previously. For their second game, they were handed a trip to Victoria Road to play the Daggers. Despite losing a player after only half an hour, they won the game 1-0, and the wise heads after the game reckoned it was only a matter of time before they were promoted back into the league.
Two months later, they visited again, this time in the fourth qualifying round of the FA Cup. In a game of two penalties, they scored theirs, and we missed ours. After the game, the away fans celebrated by claiming that their team was invincible, which at the time they were, given that they were thirteen points clear in the league. The following week, they lost at Gravesend, and the rot started.
By the time we visited the Kassam at the end of March, the Oxford lead had been erased, and we had established a lead of eleven points. With a few minutes to go, the home side were 2-1 up, but then Sam Sloma achieved legendary status by equalizing and sending the travelling fans into various states of delirium. Less than two weeks later, we clinched the conference title, while Oxford had to settle for a play off place.
It took Oxford another three years before they were able to regain their place in the football league, and in their first season back, they achieved a very good 12th place. So far this season, they sit in mid table, and drew 2-2 at the weekend at home to Burton.
Tuesday 13th September 2011, Dagenham & Redbridge v Oxford United, Victoria Road
While there are some that have got this game as a re-run of that conference season's encounters, this game is essential for both sides to win.
Recent results have not been the best for us, and as kick off approaches, there isn't too much of a rush at the gates. It takes a whole quarter of an hour before the game generates the first chance. Attacking the end where the away fans are seated, a cross from the left finds Jon Nurse at the back post, but his header is wide of the post, when perhaps he should have scored or at least got the effort on target. Like the Wimbledon game a month ago, we have started the game reasonably well but have not created too much. However, if this one follows that game, then we are due to start struggling about now.
Which is what we do. Alfie Potter, once a goalscorer at Anfield for Havant & Waterlooville, has a header similar to Nurse, and like Nurse puts his header wide. If that was a close call, its even closer a minute later, when James Constable puts the ball over from a couple of yards out. His blushes are saved because the offside flag has been raised, but the escape is only short lived. Four minutes before the break, Oxford get a free kick on the right hand side of the area. Instead of lumping the ball into the area, it's squared across the edge if the area, where Robert Hall slides his first time shot past Lewington. It's a deserved lead, and as we get to half time, we've not done enough to warrant a share of the spoils.
As people disappear for the toilets as half time starts, a small group of cheerleaders are welcomed on to the pitch to entertain still within sight of the pitch. It doesn't rouse the locals too much, and there is only polite applause when they finish their routine.
As the teams reappear for the second half, the general mood isn't great. The game restarts, but nothing is being created. The same problems on front of goal are all too visible and aside from an occasional half chance, we aren't looking like we are going to score. It takes another fifteen minutes before the first half chance is created, although Mark Arber (or anyone for that matter) would have done well to get his half volley back at goal on target. It's perhaps on keeping with our general performance that a left wing cross from our full back, Femi, is our best chance up until this point. It forces Clarke to backtrack and tip it over for a corner.
Aside from that though, crosses are not quite finding their player in the middle (unless its Michael Duberry, marshalling the away defence like a player who has played at the highest level), and though the effort is there, it isn't enough.
The best chance of another goal comes with fifteen minutes to go, and it's the visitors who have it. Potter has been a threat all evening, and now he weaves his way past a couple of defenders, and then Lewington; now he only has our right back to beat, and he is positioned on the goal line. But Potter places his shot too high, and it crashes back off the crossbar. There is much joy in the home sections, but also much relief, as a second wouldn't he undeserved. Lewington is proving himself to be a good replacement for the retired Tony Roberts, and continues to keep us in the game, even if we don't actually look like scoring. The last ten minutes are the usual scramble, when hopes are raised of a late equalizer, as players pile forward, hoping to be the hero of the hour. There is movement on the bench late on, when Gavin Tomlin replaces Scannell, but despite the fact that he is a forward, the position he takes up is more of a centre midfield role. There is a near miss from another substitute in Brian Woodhall, but even if we were able to score, you just get the feeling that Oxford would march up the other end and score themselves. With a few moments left, Scott Doe is announced as the Daggers man of the match; although he has played quite well, most around me thought that Chris Lewington had this one nailed on, given that he has kept the score down. The final whistle is greeted with a small amount of booing, but in truth, most are just disappointed, and keep their thoughts to themselves.
The players then embark on their normal post-game warm down, and it's usually at this point that the players applaud the fans and vice versa. Tonight, the players do their bit, but the applause back is very half hearted. The game wasn't the best, and against what looked a competent Oxford defence, we just floundered. As mentioned earlier, the defence isn't doing too badly at the moment, but going forward we just seem to lack any kind of cutting edge. Out and out goalscorers are difficult to find, and when you get one, you have to hold on to them. However, we just don't seem to have that in our squad at present. There is a bit of an atmosphere at the moment which makes it a not-so-pleasant place to go, and it is difficult to generate the enthusiasm to attend. This weekend we have Morecambe at home, who will be more than up for the game, especially as we beat them so comprehensively in the play off semi-final eighteen months ago, and (to the delight of many Daggers), destroyed Crawley 6-0 last weekend. But even if the atmosphere isn't great, one win could change all that. Someone reckoned in the bar after the game that we will win on Saturday; I hope they're right.