First visit? Glad you're here! I hope you'll take a second to "Like" my page on Facebook and subscribe for updates so we can stay connected!
Hi everyone! I have a humble request for all of you. Now that I have my license, the next step is getting an adapted vehicle, which costs well over $70,000. I've entered a contest to win one through the National Mobility Equipment Dealers Association, which would be a huge financial relief for my family. PLEASE take just a minute to vote for me and SPREAD THE WORD via social media. You can vote once a day and I recommend choosing the option of voting through a social media account to make it even easier. If you do choose to vote by creating an account with your e-mail, the password they send you may end up in your spam folder, so just be sure to check for it there! To make it easy, you can click the link just below, or if you have a smartphone, you can scan the QR code at the bottom of the flyer to go directly to the voting page! If you're having trouble voting or have any questions, you can leave them in the comments and I'll be happy to answer! Having the opportunity to win a wheelchair adapted van would mean the world to me and would help immensely in pursuing my dreams of independence. In return for your assistance, I'll love you forever!
Click here to vote for me!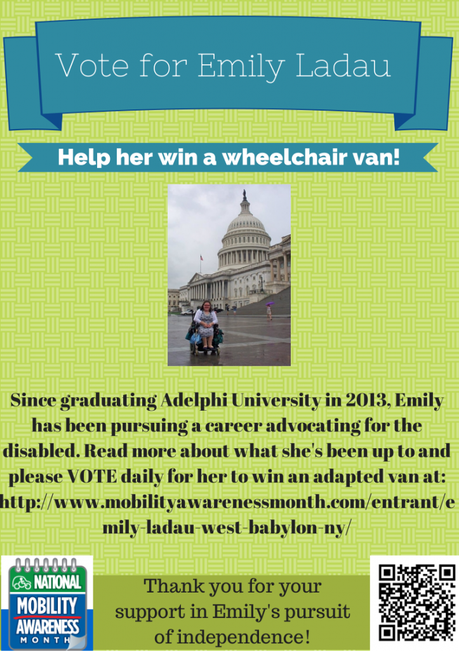 Like what you read? Subscribe for weekly updates and be sure to confirm your e-mail!