Isabelle is a very nosey girl; she is constantly watching other people to see what they are up to, and loves being in her sling because she gets a great view of the world around her. She especially loves being around other babies and children, and having a nosey at what they are up to. At Baby Sensory classes recently, I've noticed her paying less attention to the activities, and more attention to what everyone else is doing instead.
Even better if the children she is watching are older - that is her absolute favorite. She loves to watch them run around at super speed, in to everything, and playing with their big boy and big girl toys.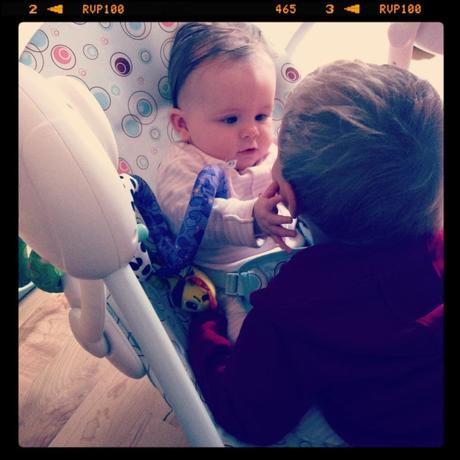 The gruesome twosome back in September
And the one person that my little loves to watch more than anyone, is that big boy she sees so much of - Master Jacob. She is totally fascinated by him, and loves nothing more than watching him zoom about, in to all his toys, and chatting about everything around him as he goes. And - when the mood strikes him - he loves to be around her just as much. Last week, he played a great game of peekaboo with her at the dinner table, and the other day held her hand to 'help her walk'. They are such a sweet little pair, and I just know how much she loves being with him.
Luckily, we are such a close family that she gets to see her buddy all the time, and I'm so thankful that she has a big cousin to learn from and, in years to come, play with and have a great relationship with. And, of course, there is little Isaac. While he's too young at the minute for her to be as intrigued by his antics, soon enough these three little people will be running around causing havoc and headaches to the rest of us!