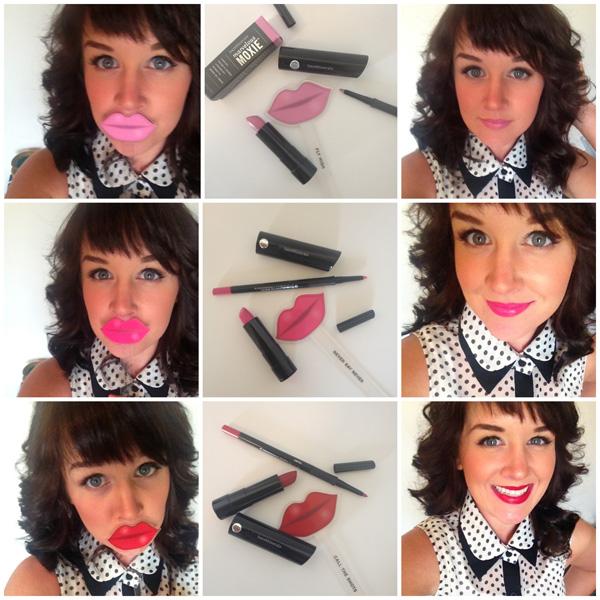 I've already been awake for 5 hours and I haven't even had coffee yet. I'm impressed with myself and also with these new Moxie lipsticks from bareMinerals. They launch in May and will come in 42 different shades (that's an impressive collection if you ask me).  You're sure to find at least one (dozen) that you love.  My favorite is Call the Shots—which appears to be the most insta-teeth-whitening shade of red ever. Also a fan of Never Say Never, a hot pink that will be great for summer!
I'm also obsessing over the bettah-than-evah lipstick tube that locks in place and opens with the slide of that silver button. Makes me feel so stealth! And the  lipliner has a rubber grip…a rubber grip….on your lipliner. A simple detail that ensures a steady hand during application.  That is first class, ladies.
The above looks involve the following products which will launch in May! Which one is your favorite? (top to bottom) Look 1: Fly High Moxie ($18.00) + Liberated Moxie Liner ($15.00). Look 2: Never Say Never Moxie ($18.00) + Jazzed Moxie Liner ($15.00). Look 3: Call the Shots Moxie ($18.00) + Amped Moxie Liner ($15.00).
These products were received courtesy of bareMinerals. Although I receive complimentary products, I only review and share those I truly love.