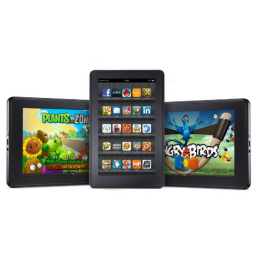 The Kindle Fire
Today I had the chance to experience Amazons latest and first offering to the tablet world. So in this post I am going to take a brief look at this tablet and answer any general questions I can.
Firstly, the appearance,  when you first get your hands on this impressive device you will notice it's back. It is mainly rubber. This gives you good grip when holding and feels surprisingly comfortable in the hands. The next thing you notice is the fact that there seems to be no buttons. This earns the device some serious points in the design department. When you find the single button you can turn on the device.
Next, the user interface, When you flick the device on you see an arrow on the screen. When you have done this it comes up with the last things you have used/looked at. You can scroll through these or go to your four favorite apps and put them on the bar at the bottom of the screen. To go through your music, videos,
docs, etc there are 7 tabs at the top of the screen to take you there.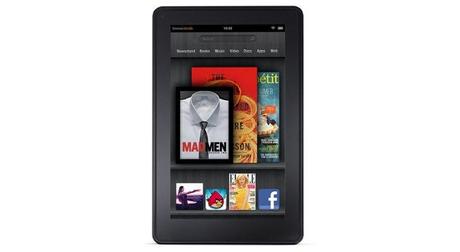 Now, If your trying to use this device in the UK you would be wrong. If your trying to use it in the UK you will have no access to the app store. That is until Amazon release the Fire in the UK. This should not be far away as a January release is to be expected from the retail giant.
In all, this is a rather impressive tablet. By no means an iPad beater but for $200 you get an 8GB-super-quick-cloud-storing-multi-touch-tablet it is a budget tablet savior. For anyone on a budget this is a dream come true.