I've never been that great at team sports.
It pains me to put those words to paper but it's true. I love sport like any red-blooded male. I watch it at every opportunity. I've been known to play a mean game of tennis, golf or squash. But when it comes to team games, I'm just not that good.
There was the time I tried out for the local football team.
I ran myself ragged around the pitch for an hour and a half, chasing the ball, tackling left, right and center. The problem wasn't the other players or even the ball, but the fact I didn't get near either for a 90-minute match. One of only two boys not to be picked for the team, I was told to keep practicing and come back next year. There ended my fledgling football career.
There was the time I tried field hockey.
I arrived on my first day of training, armed with a second-hand hockey stick and no clear sense of the game's rules. Within minutes, I was passed the ball. Deftly handling both stick and ball while pivoting 180 degrees on my heels, I took aim at the goal and fired off one of the hardest, straightest shots of the day. The ball rocketed towards the goalie who chose not to make an incredible save but instead to stand to one side, as the ball clanged into the back of the net.
Ecstatic, I ran towards my team mates with the sort of jubilation saved for a Premier League goal. No reaction. Only the comment that a goal can't be scored from the halfway line, only from within the area in front of the goal. After that inglorious goal, I don't remember playing hockey again.
You can imagine my trepidation then at the idea of moving to Australia. For this is a country with a sport obsession.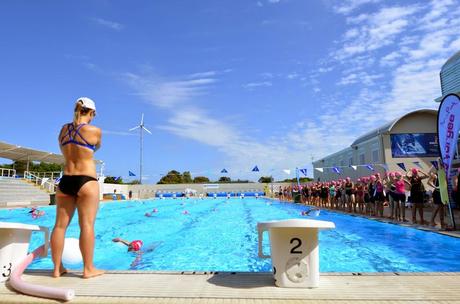 ChameleonsEye / Shutterstock.com
Australians measure their place in the grand scheme of things by how good they are on the sports field. It bonds the people, culture and society. It goes right to heart of Australia's national identity and the way things are done in this vast land.
While the Brits are football crazy, the Americans love their baseball and the Canadians can't live without ice hockey, Aussies are different.
They're mad about all sport.
They're obsessed by anything played with an oblong ball - from the bizarre and beloved Aussie Rules football to rugby union and league. Backyard and beach cricket is played all year round, while people turn out in their thousands for the iconic Boxing Day test at the Melbourne Cricket Ground.
From tennis to Formula 1, golf to marathons, swimming to ironman, this is no place for the faint of heart or weak of stomach when it comes to celebrating athletic prowess and sporting achievement. In fact, according to a recent survey, sports fans down under watch an average of 8.5 hours of sport each and every week, with cricket the nation's favorite by far.
In the years since arriving, I've traded my team sports trepidation for an appreciation of what really makes this country tick.
I write about being healthy, active and making the most of the outdoors. I relish the chance to get outside and I look forward to the day when my son and I can get stuck into any number of sports or activities together.
But when it comes to a team game of rugby or soccer, I can't resist the lure of an armchair in front of the TV or plastic seat at a stadium or sports ground.
I'm not the only one to have noticed this obsession with sports over here.
To celebrate the iconic Australian sports stadium, the team at Unibet have designed a quick game to test your sports knowledge and expertise. Try the
Aussie Sports Challenge
and put your sports skills to the test -
https://www.unibet.com.au/aussie-sports-challenge
.
Sign-up for Free Blog Updates Direct to your Inbox