Published as:  Interior Dialogue A pair of interior architects with a years-in-the-making furniture collection recast an old Belgian factory as a playful family home. Slideshow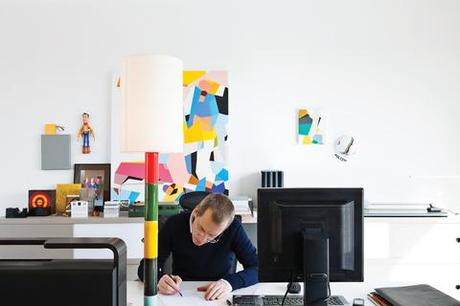 Interior architect and resident Renaud de Poorter works in his second-floor office at a pair of Joyn tables by the Bouroullec brothers and an Ypsilon office chair by Mario Bellini for Vitra.
Not many people, when faced with a derelict former cattle-fodder factory colonized by pigeons, would immediately embrace it as their future family home. Yet interior architects Renaud de Poorter and Femke Holdrinet, invited by a friend to buy a share of the space in the village of Bellem, Belgium, saw the potential of the unloved building immediately. "It was like a concrete box, with hardly any windows," recalls Poorter. "But with so much space, the potential was clearly there."
"You had to believe in it," adds Holdrinet. "And we did, even though our family and friends thought we were crazy to touch it." It helped that the couple; son, Milan, 12; daughter, Oona, 10; and Parson Russell terrier, Ibbel, wanted to move into a larger space but Poorter and Holdrinet found themselves priced out of the market in their home city of Ghent. The Bellem factory space, a 25-minute drive out of town and halfway to Bruges, was a bargain: "The price per square meter was half that in the city," says Poorter. He set about designing the 3,767-square-foot ground- and first-floor apartment they had reserved for themselves, as well as the other nine homes in the building, with the help of engineer Janna Huyghe. "The other apartments are more conventional," he says, "which is what their inhabitants wanted."
Conventional is not a word that applies to the couple's home and office, in which there is scarcely a door to be found, apart from that to the ground-floor toilet—though Poorter and Holdrinet concede that, with Milan and Oona rapidly approaching their teenage years, more doors will almost certainly need to be added. "I wanted a home where I could just walk from space to space in a circuit," explains Poorter. "I wake early, and that's what I like to do—walk around the house." His morning route will receive its finishing touch when the staircase leading to the studio upstairs is concluded, completing a looping path through the doorless rooms of the house. "I just wanted space," adds Holdrinet. "So, for example, I ruled out having a guest room because that would have detracted from the experience."
The building itself, however, with its massive masonry pillars and walls, did little to ease the couple's path to a loftlike dwelling. "The walls were 16 inches thick," says Poorter. "Demolishing them was therefore difficult, and we couldn't in the end achieve an open structure. We ended up keeping a lot of the existing fabric and working with that. Also, the ceilings of the ground floor were quite low—just over seven feet, which was not ideal." Part of the building was in poor condition, which meant demolishing the rear section (about a third of the building's total depth) and rebuilding it. This provided a welcome opportunity to add floor-to-ceiling glass windows and doors, bringing in much-needed daylight.
The ceiling of the new section isn't flat but has a geometrical, sculptural form, with recesses and beam-like protrusions. Poorter says this was intended "to distract from the many walls and openings" present in the original fabric. "I wanted a succession of spaces, with nothing lining up with anything else," he says, so he shaped the interior as a playful arrangement of planes and perspectives, in which areas seem to unfold from each other. Around one corner is the little library, where the couple's design book collection, arranged by color, shares space with Milan's painstakingly constructed Playmobil landscape. Around another, a cozy kids' lounge looks out onto the family's private terrace. An interior that could easily have become boxy, given the low ceiling and large number of internal walls, instead has a flowing spatial quality.
Perhaps most notable in the uniformly white space with its gray concrete floor is the couple's array of modern furniture, with pride of place currently given to two Bird chairs, with sugar-pink felt covers, by Harry Bertoia. "We move the furniture around all the time," says Holdrinet. "We started collecting it 20 years ago, soon after we met, when we were both studying at Ghent's design academy. Now we've stopped—because basically we have enough furniture. Instead, we're going to start collecting art by young artists."
Upstairs, the design collection is just as much in evidence, with even the kids enjoying rooms furnished with the likes of original Eames and Pierre Paulin chairs—and their parents apparently never worrying about the possible fate of the rare pieces. "We think it's good for the kids' development to be surrounded by good design," says Poorter. "Although a downside is that they tend to be critical of their friends' families' furniture."
The couple's upstairs studio not only boasts Joyn desks by the Bouroullec brothers, Ypsilon chairs by Vitra, and a colorful lamp by Belgian designer Jos Devriendt of Low Tech Design, but also the best view in the house. Just beyond the windows lie the waters of the canal; a ruin of rusty loading gear finishes the scene with a postindustrial flourish. "Now we wish we'd made this space the living room," says Holdrinet. "We still might, if I can find a Jean Prouvé cabin to function as our new studio," adds Poorter with a wry smile. "That's the hardest thing about two interior designers creating their own home—naturally, we always want to change everything. We're never finished."