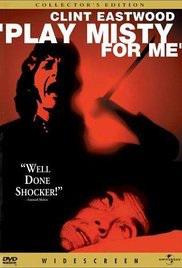 Director: Clint Eastwood
Writer: Jo Heims, Dean Riesner (Screenplay) Jo Heims (Story)
Starring: Clint Eastwood, Jessica Walter, Donna Mills, John Larch, Jack Ging, Irene Hervey, James McEachin
Plot: A brief fling between a male disc jockey and an obsessed female fan takes a frightening, and perhaps even deadly turn when another woman enters the picture.
There may be spoilers the rest of the review
Verdict: Thrilling Stalker Film
Story: Play Misty for Me starts as meet popular radio DJ Dave (Eastwood) who on every single show as a mysterious fan phone up for him to 'Play Misty for Me' when the fan learns of his favorite bar Evelyn (Walter) puts herself into his life for a night of passion. When Dave sees this as a one-night thing he life is turned upside down when Evelyn keeps returning to his life.
Tobie (Mills) returns into Dave's life which is the one woman Dave would give up his lifestyle for but Evelyn isn't going to let him get away from him that easily as she goes to extraordinary lengths to make sure Dave stays only with her.
Play Misty for Me brings us into the world of minor celebrities and how they get stalked, I say minor because Dave is on the way to becoming a big name in the business but is only a regional star. We do get the jilted lover believing more is happening than a night of sex. Having the all so familiar story of the stalker in a dangerous mind-set coming after victim and closest people to them. This does keep us guessing and we have seen plenty of films copy moments from this one.
Actor Review
Clint Eastwood: Dave is the playboy radio DJ who has quite the following of woman, but one fan Evelyn always wants one song played every day. When Dave has a one-night stand with her she just won't leave his life, which doesn't help his future as he wants to get back together with his recently returning ex-girlfriend Tobie and a career opportunity. Clint is good in this leading role where he is believable even though he is keeping one eye on his first directing outing.
Jessica Walter: Evelyn is the obsessed fan that comes into Dave's life, she believes they are now in a relationship after a one-night stand and simply won't stay out of his life. Starting with just turning up unannounced before threatening behavior putting Dave's future in doubt. Jessica makes for a great psycho in this film that many others have built on.
Donna Mills: Tobie is the ex-girlfriend of Dave who has returned to town, she has sparked the interest of Dave to rekindle the love they once had but Evelyn sees her as a threat. Donna is good as the real love interest but isn't as strong as Jessica.
John Larch: Sgt, McCallum is trying to solve the case of the crazed stalker Evelyn as he finds himself dealing with a stalker unlike any he has previously dealt with. John is a basic supporting character that doesn't get enough lines for his importance.
Support Cast: Play Misty for Me has a basic supporting cast that offer very little to the final outcome of the movie.
Director Review: Clint Eastwood – Clint shows he that he was going to be a great director with his ability to capture a great story.
Thriller: Play Misty for Me keeps you on edge as you wonder what Evelyn will do next.
Settings: Play Misty for Me keeps the setting in and around that one seaside resort for the radio station.
Suggestion: Play Misty for Me is one for the fans of Eastwood to watch. (Watch)
Best Part: Evelyn is a great stalker character.
Worst Part: The End is slightly sudden.
Believability: No
Chances of Tears: No
Chances of Sequel: No
Post Credits Scene: No
Oscar Chances: No
Budget: $725,000
Runtime: 1 Hour 42 Minutes
Tagline: …an invitation to terror…
Overall: Tension filled thriller that keeps us on edge
Rating