For the past four years, I have been invited to play a trinity of the top golf courses in Myrtle Beach, South Carolina, as part of the Mystical Golf Writer's Tournament; The Witch, Wizard and Man O' War.
This year, instead of this terrific event being held during our usual mid-October dates, Hurricane Matthew touched down from Florida through to North Carolina, causing harm to many golf courses along the Grand Strand and our tournament was reassigned...just in case. How were these three immaculately maintained golf courses affected or, were Mystical forces at work keeping them protected from harm?
Just after the storm, Claude Pardue, president and CEO of DG Golf Management which operates the Mystical trio of golf courses issued this statement, "We didn't suffer any significant damage, just a lost weekend in the middle of our season, but we can't do anything about that...".
A sigh of relief was elicited...whew, good news! I was off to see the Wizard once again!
While playing each golf course, I silently nodded my head in agreement with Mr. Pardue and, although there were a number of trees felled (cleared due to the amazing job done by the groundskeepers) on each golf course and there were some wet areas still in play, it appeared that all three courses were ready and waiting for the next sojourner to travel their creaky, meandering wooden paths.
Busy season re-starts in Myrtle Beach through Christmas as cities in the north and west experience their first snow fall. When you are booking your tee times, here are a few reasons to include The Witch, Wizard and Man O'War in your visit to South Carolina's Grand Strand.
The Mystical Golf Courses have different designs so you won't get bored.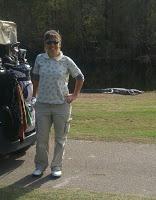 - The Witch Golf Course really comes through on its name - a peaceful eerieness surrounds golfers as they make their way through the forest riding on creaky bridges.
Designed to be playable from tee to green, you still have to hit a straight shot, the bunkers are well-placed, the greens are different than the Wizard and Man O' War (I believe they are Tift Dwarf). If you hit a good shot you are rewarded but beware a mis-hit...it will cost you strokes.
My playing partners read that this was supposed to be the easiest of the three courses but, even though we struggled a bit, we all came out with praise for its level of difficulty.
Be ware of the alligators which laze by the lakes and, if your golf ball lands near one of these seemingly docile creatures, take a drop!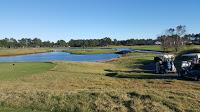 - The Wizard appeared to me to be the easiest for the three days. It is a links-style golf course, open, with rolling fairways but beware of the rough which is quite gnarly. Bentgrass greens are rolling yet playable and in great condition.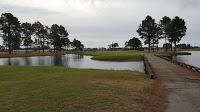 - Man O-War is definitely a golf course you should add to your vacation list while in Myrtle Beach if you like to be surrounded by water.
The course is scenic and always in pristine shape (as are the other two Mystical sites). Definitely practice your putting before heading out for your round as the greens are fast, tricky and unforgiving.
This tip from Mr. Pardue should carry you through as you make your way through each of the three Mystical Golf Courses - when you see trouble, stay away from it. Sounds like simple advice but how many of you will actually follow it when you come upon Dan Maples' "arsenal of weapons" within each course layout?
The "Magical Mystical Tour", as coined by Travel Industry Today, is in full swing during this time of year, offering great tee time values. The Witch and Man O'War are listed as two of the fifteen best courses in South Carolina, according to Golf Advisor reviews.
Staying in the Myrtle Beach area for a few days? The Witch, Wizard and Man O' War are centrally located so you don't have to travel huge distances when staying on the Grand Strand; all three courses are located near each other with The Wizard and Man O'War actually sharing a lake. All three have separate club houses and facilities but it's nice to know that, if you are not a local, you will easily find these three gems.
Thank you once again for your hospitality Claude Pardue and best regards to The Breakers Resort for the delicious food and attentive staff service. To all three Mystical Golf Courses and to their dedicated staff of ground crew and management (Tim, Graham and Randy), thanks for keeping the fairways and greens in such great shape.
Have you played any or all of the Myrtle Beach Mystical Golf courses? Share your experiences on this golf blog and tag us with your responses on Twitter @Golf4Beginners and @MysticalGolf.