Podcast: Play in new window | Download
Another episode of the Tennis Quick Tips podcast is out!  You can listen to it by clicking on the gray media player above or by downloading it from iTunes or Stitcher.  You can also read it because the transcript and show notes are below.  In this episode, I given you some great tips for turning around your tennis game in just one minute.  Think it can't be done?  Follow along with this podcast to learn how you can do it in your next match.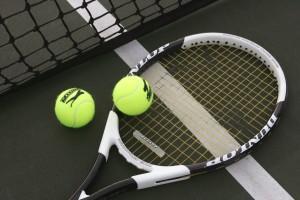 TRANSCRIPT:
What can you do in one minute to improve your tennis game? I bet you're thinking not much. Because to some extent, you can't change your technique in a minute. Changes in your strokes and shot-making ability can take hundreds, if not thousands, of hours spent hitting countless practice and match balls. But the fact is, there are some changes you can make to your game in only one minute that can have a big impact on your tennis game. And depending on what's happening on your court, there actions you can take that might even turn your match around and they all take less than a minute to do.
So here are a few ways to improve your tennis play in just one minute.
First, if you're losing badly, take a minute to get more aggressive. It usually doesn't pay to get less aggressive. If you're losing, you've probably already tightened up and have been playing tentatively for awhile. So decide to play aggressively on everything and, if you're going down, go down fighting.
Second, if your serve is giving you fits, take a minute to calm down. If you're rushing through your serve because you're serving poorly, things are only going to get worse. So when its your turn to serve, just remember that everyone is playing to your pace. Take your time, think about proper form, go for placement, use your second serve as your first serve for a while, and hit some nice serves.
Next, if you're mishitting lots of shots, keep your eye on the ball. Don't look to see where the ball is going until well after you've made contact. Once you hit the ball, its going there whether you watch it or not, right?
Next, when you're playing doubles and you and your partner are not communicating well or at all, take a minute for a quick one minute conference. To succeed in doubles you absolutely must be communicating in a positive way with your partner. If that's not happening, have a super quick meet-up and say something, anything, positive. Even if disaster is looming, you can always talk about how much fun you're having. Or that this is the time to really go for it.
Next, when you're tired or unfocused, take a one minute mental break. Eat something or drink something if you're on a changeover. Tie your shoes if it's the middle of a game. Just give yourself some kind of mini-break to catch your breath. And do that as often as you need.
Finally, are you just having a really bad day? That will happen. Sometimes you play poorly for no good reason. Sometimes you lose a match 6-0, 6-0. Sometimes, you're on court with a player who is far and away better than you and nothing is going your way. So take a minute to remind yourself – it's tennis, it's a game, and it's fun. You can use this horrible, bad match to learn some great lessons, practice some of your shots, even if they're unsuccessful, or, if all else fails, use this as something to laugh about later.
So those are a few tips you can use to play better tennis in one minute. What are your one minute tips for turning around a tennis match? I'd love to hear them because I can sure use them. You can let me know by commenting to the show notes for this episode which can be found at tennisfixation.com/quicktips24. I'm also going to put a few tweets out on this issue so look for those on Twitter where I can be found at @TennisFixation. Follow me there and let me know your one minute tennis tips.
And I hope you'll subscribe to Tennis Quick Tips:
SUBSCRIBE IN iTUNES: Visit the TQT iTunes page and subscribe (click on the "Subscribe" button or the blue "View in iTunes" button) or search for "Tennis Quick Tips" in the iPhone Podcast app.
SUBSCRIBE ELSEWHERE: Search for "Tennis Quick Tips" in your favorite podcast app. Or visit the TQT Stitcher page and subscribe. Or visit the TQT podcast feed URL and listen in.
As always, Happy Tennis!

© Kim Selzman 2013 All Rights Reserved