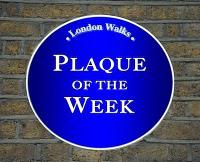 You've seen them all over the city: discs, tablets, cameos and plaques commemorating the great and the good of London Town. Every Tuesday we track down a London plaque (Blue or otherwise) and put it center stage on the

London Walks Blog

. This week…
Much is being made – and rightly so – of the 50th anniversary of the Festival of Britain. Indeed the South Bank has come alive in a riot of postwar color and 21st century installation. (You can enjoy it all on the Somewhere Else London Walk every Saturday.)
But if we're 50 years on from the Festival of Britain, it means we are 150 years down the line from the daddy of 'em all: The Great Exhibition of 1851. And we're still enjoying the legacy of that legendary display of Victorian energy and ingenuity: every time we visit the Science Museum, the Natural History Museum or the V&A, we're plugging into the complex that was inspired and partly funded by the Great Exhibition.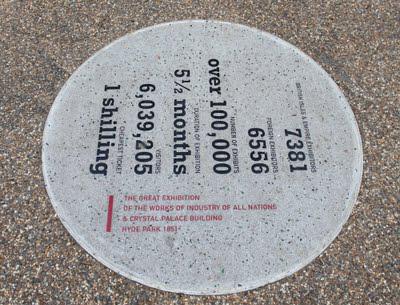 Staged in Hyde Park, the lease on the site was a short one, and Joseph Paxton's groundbreaking pre-fabricated structure – the famous "Crystal Palace" made with approximately 293,000 panes of glass – was moved to Upper Sydenham in 1854.
This plaque (pictured above) can be found on the spot where the Palace stood in Hyde Park.
To follow us on

Twitter

,

Facebook

,

Bebo

or

MySpace

, to watch

London Walks

Films on

YouTube

, to send us an email or simply to catch up on the latest

news

from www.walks.com, click on the appropriate icon below…