Plaque of the Week No.90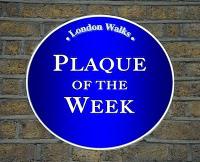 You've seen them all over the city: discs, tablets, cameos and plaques commemorating the great and the good of London Town. Every Tuesday we track down a London plaque (Blue or otherwise) and put it centre stage on the London Walks Blog. This week…
The Burlington Arcade, built in 1819, links Piccadilly with Burlington Gardens and is one of the jewels in the crown of upmarket shopping in London.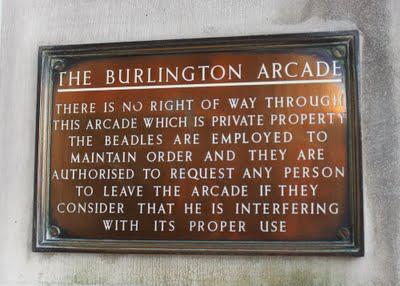 But do be sure to behave yourselves when browsing for diamonds, luxury leather goods or exquisite timepieces.
As the plaque here testifies, the Arcade has its own police force in the shape of the Beadles – who were originally recruited from the 10th Hussars.
The Beadles are authorised to enforce the quirky bylaws of the arcade which include: No whistling, singing, playing of musical instruments, running, carrying of large parcels or opening of umbrellas and no babies' prams.
Apart from that, have fun!
To follow us on Twitter, Facebook, Bebo or MySpace, to watch London Walks Films on YouTube, to send us an email or simply to catch up on the latest news from www.walks.com, click on the appropriate icon below…