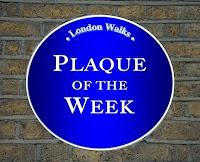 You've seen them all over the city: discs, tablets, cameos and plaques commemorating the great and the good of London Town. Friday is our new day for tracking down London plaques (Blue or otherwise) and putting them center stage on the Daily Constitutional. This week…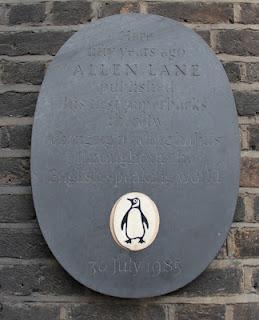 Plaque Of The Week No. 108: Penguin Books
Where: Vigo Street, W1
Allen Lane revolutionised the world of publishing in 1935 by bringing affordable, quality literature to the masses when he launched Penguin books.
His sixpenny, paperback editions, with the now famous minimalist design of three horizontal bars and penguin logo designed by Edward Young, were an instant success.
Have a look along the carriage next time you are on the Undeground. Chances are that someone will be reading a Penguin.
The first ten titles published by Penguin were: Ariel: a Shelley Romance — André Maurois; A Farewell to Arms — Ernest Hemingway; Poet's Pub — Eric Linklater; Madame Claire — Susan Ertz; The Unpleasantness at the Bellona Club — Dorothy L. Sayers; The Mysterious Affair at Styles — Agatha Christie; Twenty-Five — Beverley Nichols; William — E.H. Young; Gone to Earth — Mary Webb; Carnival — Compton Mackenzie.