I have been lucky enough to have been asked to trial some plants for Plantify.co.uk I have received six plants in total from them in two batches.  The first selection arrived back in October last year and they were duly planted out.  The three plants were:  Anemone x hybrida 'Robustissima', Aster x frikartii 'Monch' and Geranium 'Tanya Rendall'.  All are growing well though it is not the time of year for the Anemone or the Aster to shine just yet.  I shall therefore gloss over them until it is their moment.  Today I want to share with you the progress of Tanya (we have been together since October, I can use just her first name now.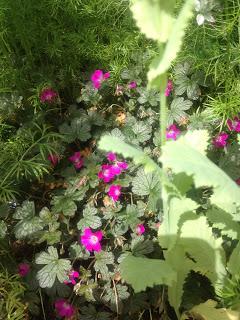 Tanya is doing fine, flowering away merrily after getting through the winter with no problems at all.  She was flowering in October when she arrived and I am hoping that I get a good long period of flower from her.  My only observation is not to do with the quality of the plant at all, that is beyond reproach, no, the issue I have is that I think I planted it in the wrong place.  This is a low growing plant and I think it needs to be closer to the front of the border.  Now I do keep extending the borders so even things that were once at the front find themselves further back quite quickly.  So I think in the Autumn I might move it forward a bit, I might see how readily it will divide too.  I am happy with this plant.
The second delivery brought me: Rose 'Millie, Helleborus x hybridus 'Red Lady' and Peony 'Bowl of Beauty'.   All three plants are doing well, the rose is coming on strongly and the hellebore is putting on growth well.  The hellebore arrived a little late to flower so that is a joy to come next year.  The rose is budding up well.
The peony, you may recall, was dormant on delivery.  Receiving dormant plants is always a challenge of good faith though as I planted it I could see it had a good root system.  I waited...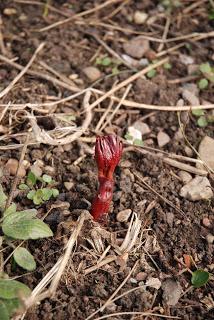 growth appeared......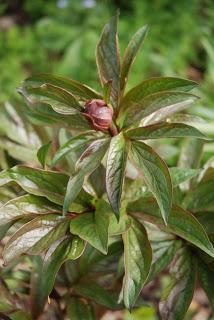 and then buds appeared.  Now I did not expect buds in its first year.  Peonies can be a little sensitive and do not always perform when first planted so to see buds was a real joy.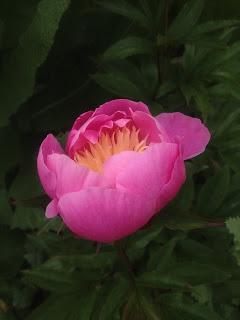 and the flowers emerged.  I am very happy with this pretty little peony.  I am not sure if it is possible to have too many peonies and this one is definitely worth having.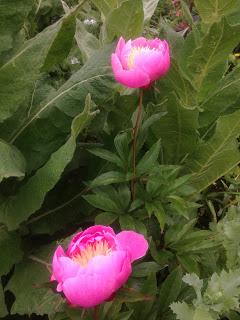 So, first update ends with all being well.  No disappointments, the plants are all doing what they should.