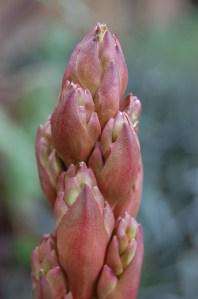 Yucca gloriosa detail (16/10/2011, London)
Position: Full Sun to partial shade
Flowering period: Mid to late summer
Soil: Well Drained
Eventual Height: 2.4m
Eventual Spread: 1.8m
Hardiness: USDA Zones 6a-9b
Family: Agavaceae
Yucca gloriosa is an evergreen shrub with a spiky architectural habit. The evergreen leaves are blue/ green and are straight, and very stiff. They are 0.3 – 0.7 m long. 2 – 3.5cm wide. The entire margins are smooth, rarely fine denticulate, accuminate, with a sharp brown, terminal spine. The flowers are a paniculate inflorescence 0.6 – 1.5 m tall partially inferior to the leaves. The hermaphrodite pendulous flowers are campanulate to elongate, and are numerous, white and sometimes tinged purple or red. They are 3.5 cm long. Initially the fruits are green, when ripe they are a brownish colour. The seeds are black and quite thickened. Several stems grow from the base, these thicken as they mature. 
Yucca gloriosa, commonly known as the Spanish Dagger, Moundlily Yucca, Soft Tipped Yucca, Spanish Bayonet or Sea Islands Yucca, is native to the east coast and barrier islands of the southeastern North America, typically growing on Sand dunes. In collections in Europe and overseas, there are many forms and hybrids mostly created in the 18th and 19th centuries. The first Yucca to be described was Yucca aloifolia, gloriosa and filamentosa, all described by Carl Linne in 1735. The Y. gloriosa has been known to cause skin irritation and even allergic reactions upon contact. The leaf points are even sharp enough to break the skin.
The etymological root of the binomial name for Yucca is derived from the Carib (indigenous people of the Caribbean) name for cassava (misapplied to this plant). Gloriosa is derived from the Latin gloriosus 'full of glory'.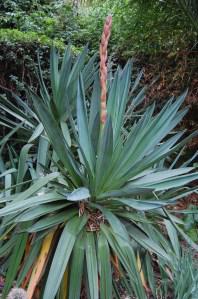 Yucca gloriosa (16/10/2011, London)
The landscape architect find Yucca gloriosa useful as an accent plant. It looks fantastic when planted en mass, forming an impenetrable barrier. It can tolerate drought conditions and is suitable for exposed coastal planting. Care should be taken when locating this plant due to its spiky nature.
Yucca gloriosa has won the prestigious Royal Horticultural Societies annual Award of Garden Merit in 1993.
Y. gloriosa prefers a well-drained soils. It will tolerate most pH of soil. It can also tolerate drought prone soils.
Maintenance: This plant requires little maintenance. Dead flowers and leaves may be removed from the plant when required.
Advertisement
Eco World Content From Across The Internet.

Featured on EcoPressed
On the ground with clean power in India