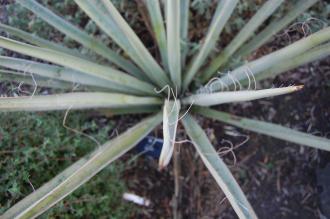 Yucca baccata Detail (21/01/2012, Kew, London)
Position: Full Sun
Flowering period: Spring
Soil: Well drained
Eventual Height: 1m
Eventual Spread: 2m
Hardiness: 4a – 9a
Family: Asparagaceae
Sub Family: Agavoideae
Yucca baccata is an evergreen shrub and is in the form of a stemless rosette. Its blue/ green leaves are stout, strap-like, sharply pointed and up to 1m long. It has white fibers along the leaf margin which tend to curl. The flower stalks of this Yucca are up to 1.5m in height. The bell shaped flowers grow in thick clusters, are creamy white in color and up to 13cm long. Each flower has three stigmas. These are followed by sweet cylindrical fleshy fruit which are up to 18cm long and 6cm across.
Yucca baccata, commonly known as Banana yucca and Datil Yucca, is native to the deserts of the south west United States and north west Mexico It gets its one of its common names from its banana shaped fruit. The Native Americans used to dry the fruit of this plant for use during the winter.
The etymological root of the binomial name for Yucca is derived from the Carib (indigenous people of the Caribbean) name for cassava (misapplied to this plant). Baccata is derived from the Latin bacca 'small berry' or 'round fruit'.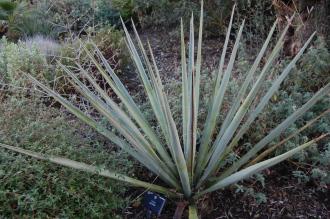 Yucca baccata (21/01/2012, Kew, London)
The landscape architect may find Yucca baccata useful as a dramatic specimen accent shrub. Once established this plant is drought tolerant.
Ecologically, Yucca baccata seeds are the sole source of food for the Yucca moth larvae and the Yucca moths are the only pollinators of the yucca.
Yucca baccata prefers well-drained sandy soils. It tolerates most pH of soil.
Yucca baccata requires little maintenance.
Advertisement