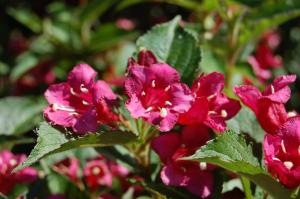 Weigela florida 'Bristol Ruby' flower (26/05/2011, Prague)
Position: Will flourish in full sun to partial shade.
Soil: Moist and well drained.
Flowering period: Late spring to early summer.
Eventual Height: 2.5m
Eventual Spread:  2m
Hardiness: USDA Zone 4a-8b
Family: Caprifoliacea
Weigela 'Bristol Ruby' is a deciduous shrub with an upright habit. Its foliage is oval and dark green with a serrate margin. Its flowers are usually bell-shaped and deep red in colour, developing from deep red buds in late spring and early summer. The flowers are sterile and do not go to seed.
W. 'Bristol Ruby' was created by crossing W. florida with W. 'Eva Rathke'. W. florida was discovered by Robert Fortune in China and imported to England in 1845. The common name for this plant is the same as its botanical.
Weigela was named after the German scientist Christian Ehrenfried Weigel (1748-1831), a professor of botany at Greifswald. Florida is derived from the latin meaning many flowers.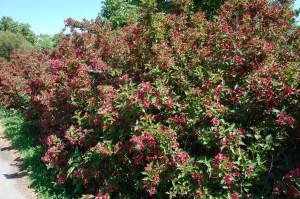 Weigela florida 'Bristol Ruby' (26/05/2011, Prague)
This plant may be useful to the landscape architect as a low maintenance free flowering plant.

This plant will tolerate almost any soil conditions; it will be happy in acid, neutral or alkaline pH levels, in loam, sand, clay or chalk in a sheltered or exposed location facing any aspect.
Ecologically this plant will attract many pollinating insects such as honey bees.
Maintenance: Little maintenance required. It may be pruned after flowering and will respond well to a hard pruning.